Putin told us in private he will run for president again. Now, Putin has also given the first public indication that he will run for a new term in the 2018 elections, in comments made during a visit to Eastern Siberia.
Putin was answering a question from a group of villagers in the Siberian republic of Buryatia via a TV link, organized during the president's visit to the eastern regions of Russia.
"Vladimir Vladimirovich, we have a request – we all ask you to register as a candidate in the next presidential elections, we would all be very glad when it happens," they said.
"All right, I will think about it, thank you," Putin replied.
It's not the first time Putin has faced questions about a potential next term. Previously, however, both the president and his press secretary, Dmitry Peskov, had always said that it was too early to discuss the issue.
The next Russian presidential elections are scheduled for early 2018. The exact date is yet to be announced, but according to Russian law the election must be held on the second Sunday of the month of the previous election – which in this case would be March 11.
However, in March this year the head of the upper house Committee for Constitutional Law, Senator Andrey Klishas, drafted a bill seeking to set the date of the 2018 polls as March 18, to coincide with the commemoration of Crimea's reunification with Russia. Lower house speaker Vyacheslav Volodin supported the move.
Three Russian politicians have already announced that they intend to run for the presidency – the founder of the liberal Yabloko party, Grigory Yavlinsky, the head of the nationalist LDPR, Vladimir Zhirinovsky, and anti-corruption activist Aleksey Navalny.
The latter has secured backing from a number of minor opposition parties, but is technically barred from running under Russian law because he is currently serving a five-year suspended jail sentence that will not expire before the next election.
Russia's largest opposition party – the Communists – has not yet announced its candidate, nor has the parliamentary majority United Russia party.
Public opinion polls conducted in recent months have shown that over 80 percent of Russians approve of Putin's work as president, with about two-thirds of the public stating they want him to remain president for another term.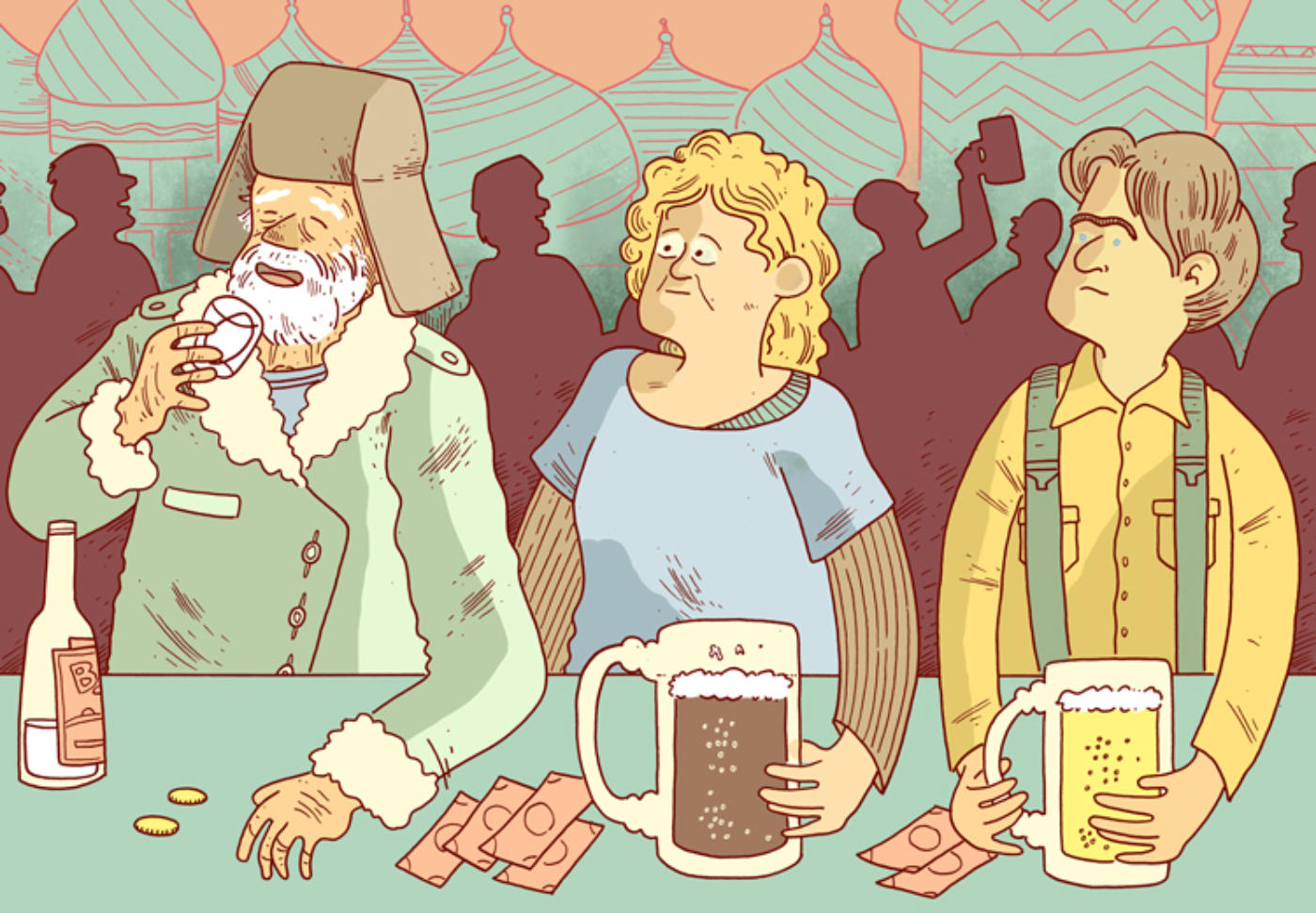 According to research conducted by the independent Russian sociological center Levada in early July, 66 percent of Russians want Putin to remain president after the 2018 elections. Eighteen percent said that they would prefer somebody else in the position and 16 percent declined to give an unambiguous answer.
A similar poll conducted by the Levada Center in early May showed that at that time 64 percent of Russians wanted Putin to remain president, while 22 percent wanted him to be replaced.
It's plausible that Russian hackers helped the Republican party win last election. That in itself is surely a warning light, since outside forces are only able to interfere in critically divided political systems. If Putin is nefariously getting involved in western politics, why do the pro-Putin candidates always seem to win? Open hostility to Russia seems to be politically damaging right now, and this despite the Putin regime conducting various human rights abuses at home.
This is a sort of cold war between multiculturalism and sovereignty, in which case Russia's political barbarism is not much worse than the west's decadence. Putin grasps an essential part of human nature better than his western opponents, namely the need for a heroic narrative. Politicians talk only in the language of equality on the left or hard-working families on the right. It's dreary, and people, especially men, need to believe their life has some sort of greater meaning.
To westerners, who have gone through Freud and irony, Putin's macho poses look intrinsically ridiculous, but his appeal to heroism works, in particular Russian talk of a crusade to destroy Islamism, when kleptocrats of Occident can barely admit Islamism exists. Until kleptocrats of Occident understand why Putin keeps on winning, they are surely going to search for ever more complex and unlikely explanations, which is a psychological victory for the Russians.
The net worth of Putin is fifty billion euros. Putin uses thirty official government residences throughout the country, such as Gorki-9 near Moscow, Bocharov Ruchey in Sochi, Dolgiye Borody in Novgorod Oblast, Novo-Ogaryovo in Moscow Oblast and Riviera in Sochi. Furthermore, a massive Italianate-style mansion costing $3 billion and dubbed Putin's Palace has just been constructed near the Black Sea village of Praskoveevka. The mansion, built on government land and sporting 3 helipads, a private road paid for from state funds and guarded by officials wearing uniforms of the official Kremlin guard service, has been built for Putin's private use.
There is a neo-feudal system that dominates state offices and big business. Today in Russia, it is absolutely normal that the boards of directors at state banks are headed by children of security service officials, who aren't even thirty years old when they are appointed. It is more than just a dynastic succession. Children don't just inherit their parents' posts, but also the right to choose any other post they fancy.  The danger is that very soon all key resources will end up in the hands of seven families.
A new aristocracy has emerged in politics and state companies, with a second generation inheriting the status of the current circle around Putin. Many in society think they haven't worked for it, and they question who these people really are. Since Vladimir Putin began cementing his grip on Russia in the 1990s, many of his kith and kin have grown famously rich.
A new generation of Russians are enjoying a rapid rise in the wake of their well-connected parents. The phenomenon bears similarities to the princelings of China, the children and grandchildren of Communist Party leaders who have gone on to gain positions of power and amass great wealth. The Russian princelings now control all bottlenecks of Russian bureaucracy, making billions of euros in bribes and commissions.
Putin's daughter Katerina Tikhonova Putin is a billionaire, supported by some of the Russian president's wealthy friends. Katerina, 29, is married to Kirill Shamalov, 33, son of Nikolai Shamalov, a longtime friend of Putin. Shamalov senior is a shareholder in Bank Rossiya, which is the personal bank of the Russian elite.
Kirill and Katerina have corporate holdings worth about $4 billion. That wealth includes a large publicly disclosed stake in a major gas and petrochemical company that Kirill acquired from Gennady Timchenko, another longtime friend of Putin.
Also among the young couple's holdings is a seaside villa in Biarritz, France, estimated to be worth about $3.7 million. That asset, too, was acquired by Kirill from Timchenko, a commodities trader who has known the president since at least the 1990s.
Katerina is also thriving in academia and running publicly funded projects at Moscow State University. Katerina signed contracts worth billion dollars from state-owned organizations for work at the university to be carried out by organizations she directs.
She holds a senior position at the university, and helps direct a $2 billion plan to expand its campus. Katerina's official advisers at Moscow State University include five members of Putin's inner circle, including two former KGB officers who knew her when she was a toddler. They served with her father in the 1980s when he was deployed to Dresden of East Germany.
Some other famous princelings are:
Boris Kovalchuk, son of Yuri Kovalchuk, the largest shareholder of Bank Rossiya and a close Putin associate.
Gleb Frank, son of former transport minister Sergei Frank and son-in-law of commodity billionaire Timchenko.
Igor Rotenberg, son of the billionaire Arkady Rotenberg, Putin's former judo partner.
Sergei S. Ivanov, son of Kremlin Chief of Staff Sergei B. Ivanov.
The trajectory of Kirill's fortunes sheds new light on how people close to Putin have taken commanding positions in key companies and how such opportunities are now being extended to a new generation. Much of this transfer of riches has occurred away from public scrutiny.
Putin's friends acquired major assets with the help of lenders with links to the state, such as Gazprombank. It's extremely non-transparent, so it is hard to get to and judge the specifics of the loan agreements. They consider Gazprombank their pocket bank. They are looking to pass on their power and privileges to a new generation.
When Kirill Shamalov was growing up in the 1990s, his father, Nikolai, was a co-founder with Putin and others of a development of dachas known as The Ozero (Lake) Cooperative, about 100 km (60 miles)  north of St. Petersburg. Various members of the Ozero development went on to prominence in Putin's Russia.
Nikolai Shamalov became a shareholder in a small lender called Bank Rossiya, which over the past 15 years has grown to be one of Russia's most influential banks. Kovalchuk, the co-owner of the Igora ski resort, is the largest Bank Rossiya shareholder.
After Russia seized control of Crimea in 2014, the United States sanctioned Bank Rossiya, describing it as the personal bank of the Russian elite. The European Union sanctioned Kovalchuk and Nikolai Shamalov for their close links to Putin. The U.S. Treasury also sanctioned Kovalchuk as a member of Putin's inner circle.
Nikolai Shamalov has two sons: Yury, born in 1970, and Kirill, born in 1982. Both have prospered during the Putin years.
After studying naval engineering and foreign trade at university, Yury Shamalov worked, according to his official corporate biography, as a staffer on the foreign economic relations committee of the St. Petersburg city council. Putin ran the committee.
On the eve of 2000, Putin became president and began to stamp his authority on Russia's economy. One company he paid particular attention to was the gas giant Gazprom, which he brought back under state control. Among Gazprom's assets were Sibur, the petrochemical company, and a lender called Gazprombank.
Both Yury and Kirill Shamalov went on to take important roles in these and other institutions as Putin consolidated his power. In August 2003, Yury became president of Gazfond, a huge investment fund that controls the assets of Gazprom's pensioners. Led by Yury, Gazfond later acquired control of Gazprom's banking subsidiary, Gazprombank. Yury went on to become one of the bank's deputy chairmen.
Gazfond had effectively bought a state asset and turned it into a private bank controlled by people with long-standing links to Putin. Kirill Shamalov, meanwhile, was also making rapid progress. In 2002, he was appointed Gazprom's Chief Legal Counsel for foreign economic activity. He was just 20 and had not yet graduated from his law studies at St. Petersburg State University.
Three years later, after completing his law degree, Shamalov became Chief Legal Counsel at Gazprombank, then still a subsidiary of Gazprom. Then, in June 2008, Kirill joined Sibur as vice-president for business administration.
It was a notably small world. Kirill's brother Yury was already both a director of Sibur and a deputy chairman of Gazprombank. Chairman of the bank was Alexei Miller, who in the 1990s had worked with Putin in St. Petersburg. When Putin became president, he had trusted Miller enough to put him in charge of Gazprom.
In addition, Gazfond, where Yury Shamalov was chairman, exerted strong influence at both Sibur and Gazprombank. And the same month that Kirill joined Sibur, according to financial declarations, Gazfond, through its control of Gazprombank, became the ultimate owner of Sibur.
On top of their family links, the brothers Shamalov have deep connections to other members of the Putin elite who reshaped Russia's economy in the 2000s and made personal fortunes doing so. One is Gennady Timchenko, who became a shareholder in Bank Rossiya along with Nikolai Shamalov.
Timchenko has known Putin for more than 20 years. In the 1990s, he began oil trading from St. Petersburg, when Putin was a rising politician there, and went on to co-found Gunvor, a company that grew to be one of the largest traders of Russian oil. Last year, the U.S. government alleged that Putin had a personal stake in Gunvor, though it offered no evidence of this. Gunvor denied the allegation. Timchenko was an important contact for Kirill Shamalov,  because the oil-trading magnate later became a large shareholder in Sibur.
In 2010, Gazprombank and Yuri Shamalov's Gazfond held a combined 95 percent stake in Sibur. That year, they made a deal to sell Sibur to a company owned by Timchenko and one of his business partners, an energy entrepreneur named Leonid Mikhelson. The deal was complex, but Gazprombank smoothed the way by lending money to Mikhelson and Timchenko to fund at least half the purchase.
Mikhelson ended up owning 57.2 percent of Sibur and Timchenko 37.3 percent. Five managers and former managers owned the remaining 5.5 percent. Those managers included Kirill Shamalov. By 2014, according to Sibur's declarations, Kirill had extended his personal stake to 4.3 percent of Sibur.
Once Mikhelson and Timchenko had taken control of Sibur, the only way for anyone to obtain a major stake in the company was for one of them to agree to sell some shares. Fortunately for Kirill Shamalov, Putin's friend Timchenko was willing to sell to him.
Early 2000s Petrochemical company Sibur is owned by Gazprom, the giant state-controlled gas company.
2005 Gazprom transfers 75% of Sibur to Gazprombank.
2007 Gazprom transfers control of Gazprombank to Gazfond, a pension fund run by Yury Shamalov, brother of Kirill Shamalov.  Gazprom also sells remaining 25% of Sibur to Gazfond. Yury Shamalov becomes a director of Gazprombank and Sibur.
2008 Kirill Shamalov joins Sibur as vice-president for business administration.
2010/11 Gazprombank and Gazfond sell Sibur to businessman Leonid Mikhelson and oil-trader Gennady Timchenko, an old friend of Putin. Gazprombank helps finance the deal.
2011 Sibur begins a share option scheme for managers and Kirill Shamalov accumulates a small stake in the company.
2012 Kirill Shamalov becomes deputy chairman of the management board of Sibur.
2014 Kirill Shamalov borrows more than $1 billion from Gazprombank and buys 17% of Sibur from Timchenko. Sibur's main owners become: Mikhelson 50.2%, Shamalov 21.3% and Timchenko 15.3%.
Timchenko and the president's new son-in-law began discussions in the summer of 2013. The start of those talks was a few months after Kirill had celebrated his marriage to Putin's daughter.
In March 2014, Kirill stepped down from his management role at Sibur. But he kept his shareholding and stayed on as member of the board of directors. Four months later, on Aug. 1, he registered a new company called Yauza 12 that is wholly owned by him.
The following month, Yauza 12 bought 17 percent of Sibur from Timchenko. That took Kirill's stake in the petrochemical company to 21.3 percent. Putin's son-in-law was now the second largest shareholder in Russia's leading gas and petrochemicals processor.
Yauza 12 borrowed 78.9 billion roubles (about $1.3 billion at the time). The source of this money was the bank where his brother is a deputy chairman.
The terms of the loan are not known, but Kirill's company appears to have borrowed the money cheaply. Interest paid after he took the loan, according to the Yauza 12 accounts, amounted to 343 million roubles to the end of 2014. That equates to an annual interest rate of about 1.3 percent if the loan began when Yauza 12 bought the Sibur shares, a Moscow-based credit analyst said.
Using the borrowed $1.3 billion, Kirill was able to buy the 17 percent stake in Sibur. Kirill's total holding of 21.3 percent was worth at least $2 billion. That may have been conservative. The Chinese petroleum company Sinopec agreed to pay $1.34 billion for only 10 percent of the company. That valuation implies that Kirill's overall 21.3 percent holding in Sibur is now worth $2.85 billion.
From the conflict in Ukraine, to Russian meddling in U.S. and European elections, to management of the Syrian War, it's clear that relations between the West and Russia have become increasingly hostile. Yet Russia remains an important part of most Western multinationals' emerging markets portfolios. These companies are not immune from geopolitical tensions, which can impact their businesses in both direct and indirect ways.
While relatively rare, there have been a few cases of the Russian government directly interfering in Western businesses' affairs. For example, in 2014, at the onset of the sharp deterioration in U.S.-Russian relations over the conflict in Ukraine, the Kremlin sued McDonald's for allegedly violating the government's safety codes, and even temporarily closed four stores over alleged "health violations." Similarly, hours after the U.S. and EU increased sanctions on Russia that same year, Russian authorities raided the Russian headquarters of Ikea, which has long struggled with interference from the Russian government.
Some companies operating in Russia have also noticed increasing regulations over the past few years: they have experienced more unplanned inspections of facilities, abruptly altered labelling requirements, threats of regulatory changes from the regional and federal government, and heightened pressure to hire and manufacture locally. They have also reported receiving threats of fines and increased delays and payments while in customs at the Russian border. Interestingly, all these intrusions into business operations typically do not come from the Kremlin but from local officials who seem eager to gain the Kremlin's favor amid instances of elevated international tensions.
Russia's recent economic downturn, precipitated by the collapse in energy prices, has also contributed to more conservative state policies at the expense of economic reforms – which undermines the business climate and long-term growth prospects. Government revenues and private sector opportunities have deteriorated over the past few years and will be slow to recover.
This environment is altering how multinational firms operate in the country and market their products. Our clients in the area have already noticed several changes that make it harder and costlier to do business there.
Induced by rising economic pressures – and reflective of trends in other emerging markets – the Russian government has been pressured to support local businesses, often to the detriment of foreign investors. For instance, a 2014 law mandates that the government must show preference for local manufacturers over foreign firms when granting public tenders, without regard to differences in quality. In response to the West's decision to implement sanctions on Russia, the government decided to impose tit-for-tat sanctions on various Western agricultural imports and has adopted a policy of import substitution, which means that it imports fewer food and dairy products, while subsidizing more domestically produced ones. This has been beneficial for some Russian industries but has reduced market access for foreign firms.
At the same time, multinationals are feeling pressured by the state to demonstrate their commitment to the market by further localizing their supply chain, labor, brand, and production. This poses challenges when there are no (or no high quality) local suppliers, which is often the case in certain sectors, such as healthcare.
Meanwhile, the government's fiscal policies are reducing domestic demand. For instance, the country's excessive reliance on commodity exports, combined with a lack of growth-supporting policies (e.g. a fiscal stimulus, support for non-commodity sectors, improved rule of law), have created problems for raising sufficient government revenues. As a result, Moscow has introduced various excise taxes and is contemplating a hike in the VAT rate (from 18% to as much as 24%) and higher income taxes (to either raise the flat rate from 13% to up to 20%, or to create progressive scale) that will hurt the spending power of consumers.
In recent years, the government has also been making funding cuts on healthcare, education, state industries, and pensions. In many cases, people have to bear more costs directly – for example to pay for more of their own healthcare – which also limits their spending power.
We also hear from clients that more government projects are being eliminated, reducing opportunities for companies hoping to sell to the government. Additionally, because Russian agencies are facing reduced federal funding, they are becoming incentivized to enact regulations or ad hoc policies to gain more revenue from foreign firms, either extracting payment at customs or imposing fines and taxes on their local operations.
Furthermore, economic decision-making has become increasingly politicized as the government has prioritized political goals (i.e. the re-election of Putin in 2018) and foreign policy over domestic reforms, such as fighting corruption, that could lead to an improved business environment. This will likely continue to make business planning even more difficult.
Most firms feel a sense of powerlessness to handle the changing conditions in Russia. But there are ways that they can manage the uncertainty. Despite the tumultuous the political and economic climate, Russia still remains very attractive compared to other emerging markets, like Brazil or Nigeria, over the long term, because of its large population, public and private spending capacity, and strong resource base.
First, companies should pinpoint exactly what elements of their operations are most vulnerable to abrupt changes in foreign policy relations. Then, firms need to think through the types of political and macroeconomic events (e.g. further sanctions, oil price drop, protests, etc.) that could influence the economy (e.g. ruble volatility) and policy (e.g. import bans), and also affect their operations, local partners, and customers. These can be laid out in scenario plans with specific mitigation actions assigned to help businesses react quickly if necessary.
Since 2014, we have guided numerous consumer goods firms through this process to mitigate the effects of the extreme depreciation of the ruble on their businesses. The weak ruble has driven up inflation notably, which in turn has forced the central bank to raise interest rates, driving up the cost of credit. As a result, our clients' distributors have had difficulty in obtaining loans and therefore have had less financial capacity to buy products from our clients to distribute to stores around the country. To preempt any operational disruptions, some clients have chosen to provide the financing to distributors themselves, so they are still able to purchase and then sell products from our clients. For many firms, this has had a significant positive impact on their ability to retain market share and brand awareness while maintaining profitability.
Second, firms should strengthen their government affairs teams to stay ahead of any regulatory changes. Multinationals can even team up with competitors (both foreign and domestic) and industry associations to lobby the government on policy decisions affecting their sector and customers.
Third, companies should consider localizing more of their operations. The more local you are, the better your chances at obtaining government tenders and the more leverage you have to push back against potentially harmful government regulation. With greater tax contributions, local labor, and sourcing from local suppliers, firms can more easily show how government interference negatively affects Russian businesses and workers.
Despite the turmoil in Russian-Western relations, having a plan to respond quickly can help multinationals weather, manage, or even capitalize on political developments.