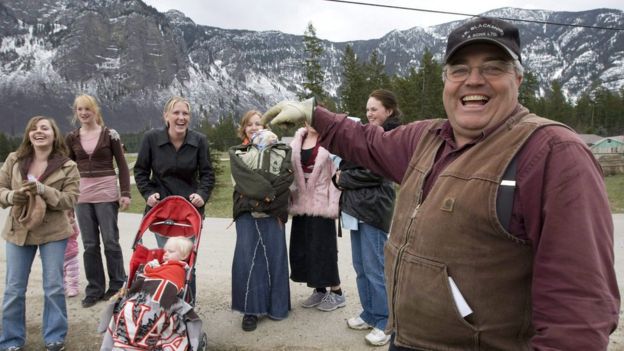 A long-awaited verdict in the trial of two Canadian religious leaders accused of polygamy is expected today. Bishop Winston Blackmore, 61, is accused of having 24 wives and his former brother-in-law James Oler, 53, married four women. They are both bishops of the Fundamentalist Church of Jesus Christ of Latter Day Saints (FLDS).
God is the biggest hoax of all times! The relationship people have with the real world has changed. Throughout time, individuals have tried to escape the reality of life, through religion, drugs, or alcohol. Today, modern technologies allow a genuine democratization of the unreal. Everyone can live in a parallel world consisting of gods, prophets, avatars, churches, video games, augmented reality, or sitcoms. Each can lead an alternative life by proxy.
Atheism is the smart zeitgeist. Today we know very well we are just a sort of apes, all religions are wrong, there is no God, there is no afterlife, and all miracles are hoaxes. God is the most unpleasant character in all fiction! But many people refuse to accept reality that when they die that will be the very end of them, that they will cease to exist.  Hoi polloi live on wishful thinking that they will live forever near God in another life! Hitler used to say that hoi polloi believe big lies, not small lies!
The landmark polygamy trial is expected to test the boundaries of religious freedom in Canada. Polygamy is illegal under Section 293 of Canada's Criminal Code. Blackmore's lawyer has argued that criminalizing polygamy infringes on his client's freedom of religion. Both men face a maximum sentence of five years if found guilty.
Their trial took place in a British Columbia (BC) court this spring over the course of two-and-a-half weeks. The two are from Bountiful in southeastern BC, a religious community of about 1,500 people and founded in 1946.
All religions are big lies. Basic to religion is a presumed distinction between humans and animals, and a presumed uniqueness of humans in the universe. Based on evolutionary biology and astronomy, science rejects this stupid distinction. God is imaginary and religion is a complete illusion. Belief in God is nothing but a silly superstition, which leads a significant portion of the population to be delusional.
Bible and Qur'an express toleration for slavery and regard women as subordinate to men. Religious morality is impoverished to the point of bankruptcy. If we rely on religion, there is a certainty we will fail. Religion has nothing to offer but taboos without a clue.
Residents are part of a breakaway Mormon sect, the Fundamentalist Church of Jesus Christ of Latter-Day Saints (FLDS) and have practiced polygamy for over 70 years.  The sect has branches in the US, including Colorado City, Arizona, and Hildale, Utah, and about 10,000 members. FLDS split from the mainstream Mormon church over a century ago after it banned the practice of polygamy. FLDS sect members are said to see polygamy as necessary for reaping reward in the afterlife.
The American former FLDS leader, Warren Jeffs, was sentenced to life in prison in 2011 by a Texas court for sexually assaulting two underage girls that he took as brides. This June, his brother Lyle Jeffs was arrested in South Dakota after fleeing house arrest in 2016 while awaiting trial with 10 other sect leaders for alleged food stamp fraud and money laundering. Authorities in the US and Canada have collaborated on building cases against FLDS leaders.
The Royal Canadian Mounted Police has had Bountiful in its sights since the 1990s over allegations of child abuse, coerced marriages, and the trafficking of teenage brides between the US and Canada.
Attempts to bring the case to trial stumbled over a lack of clarity around anti-polygamy laws in Canada. In 2011, the BC Supreme Court upheld Canada's anti-polygamy law as constitutional following a request for clarification from BC's government. According to the 335-page ruling, the law is a reasonable restriction on religious freedoms.
The level of socio-pathology caused by a religious meme or meme complex depends, at least in part, on the degree to which it leverages compulsion as part of its reproductive strategy. Religious compulsion might refer to the level of threat and fear a religion uses to win and keep converts, or the degree of obsessive thought and compulsive behavior it engenders in believers. But compulsion is likely to be just one part of the picture, because the experience of many religious believers is that they practice their faith freely and happily, even when this may seem dubious to outsiders.
When Jesus announced that we should cut off body parts, he was telling others to harm themselves. There were entire monastic orders that castrated themselves because Jesus said in Matthew 19:12 that "he that is able to receive it, let him receive it." Every year in the United States we read about one or two men who mutilate themselves in order to prove their obedience to Jesus!  This only shows that Jesus was immoral.
Justice Robert Bauman wrote that the salutary effects of the prohibition far outweigh the deleterious and noted that the institution of monogamous marriage seeks to protect against the many harms which are reasonably apprehended to arise out of the practice of polygamy. Those many harms cited included the possibility of early sexualization of girls, physical or sexual abuse, and the ostracization of young men.
Questions around the constitutional validity of the law as well as difficulty gathering admissible evidence from the women involved with the sect made a case a struggle to build. Monday's verdict will be closely watched not just in Canada but in the US and Europe as well, where the debate around plural marriages is a significant issue. Polygamy is illegal throughout Occident. This is a matter of national and indeed international significance and it's likely to end up in the Supreme Court of Canada.  There is still sufficient legal doubt around the constitutionality of the anti-polygamy law.
In the beginning it was Eve and Eve! Adam and Eve came much later. An individual reproduced by growing a copy of herself and releasing that copy into the environment. This was certainly the case with the first self-copying molecule. Since life began with the first self-copying molecule, this means females are the first, original sex. In the beginning it wasn't Adam and Eve! It was just Eve!
Jesus was a gay, married to Magdalene, a fag hag. Most church fathers were gay, including Paul and Peter. Moreover most bishops are gay.  Nevertheless, all gay bishops preach against homosexuality and marriage equality!  If this is not duplicity, what is it?
Marriage — modernly — is seen as sort of unalloyed good. Everyone would like to get married, or at least, most people would like to get married. Certainly, most people's mothers want them to get married.
The marriage equality movement has built up the idea that marriage is this wonderful thing that everyone should want. And there are a lot of benefits to being married in the United States. People who are married have better financial outcomes than people who aren't. They are often healthier (especially men), and they have access to a range of public and private benefits, like Social Security and shared employee health and other benefit plans.
But there's a darker side to marriage that's been overlooked. What the marriage equality movement really did not think about is that there is a kind of normalizing process that goes on in marriage. Marriage signals that these people — the sexual relations that they have — are respectable, are valued, are worthy.
You can't make that kind of claim about one set of people and their intimate lives without illuminating what is disreputable about other people's sexual relationships. Getting more people into marriage actually highlighted that other people were outside of it and therefore, undisciplined, unregulated and problematic.
It's important to take a look at the rather complicated history of marriage. In the mid-1800s, women had very few rights, and marriage was necessary for the economic provision of most women who were not working outside the home. And, although it may surprise modern listeners, sex outside of marriage was a crime. The criminal regulation of sex made clear that marriage was the licensed site for sexual activity.
Marriage was where you had sex. That's an important aspect of it. Marriage interacting with criminal law for regulating sex. For identifying certain kinds of sexual acts as productive and valuable and other kinds as unproductive, destructive, and indeed criminal.
Marriage worked as a kind of state-imposed sexual discipline. Those having sex within marriage were literally in law, while unmarried people having sex were sexual outlaws.
The close interaction between criminal regulation of sex and marriage meant that marriage could even be used as a form of punishment for certain sex crimes. If a man seduced an unmarried woman of chaste disposition with the promise of marrying her, and then didn't follow through, the man could be charged and sent to prison for up to 20 years in some states.
Interestingly, there was a defense for it. The defense was simply that the man could get out of it by marrying the woman. So, there are these amazing scenes where all of a sudden this site of a trial was transformed into a wedding. No one thought the defendant was getting away with something by being married. If he was married, he literally had a ball and chain. He had someone he had to support. He would likely have a family to support. He would have to be sober, enterprising, productive and if he was abiding by his marriage vows, sexually faithful.
Although a man can't be prosecuted for a crime of seduction anymore — such laws fell out of favor in the early 20th century — marriage recently was prescribed as a sort of cure for bad behavior.
Just in August 2015, after a man got into a barroom brawl, a Texas judge ordered the man to marry his girlfriend or spend a few nights in jail. Scared that he'd lose his job if he took the jail time, the defendant reluctantly agreed to get married.
Although marriage has changed over the years, and people have more freedom to define the boundaries of their own marriages, there is a lot that hasn't changed.
If you ask anyone who is married, there is still a very stark gender differentiation in the amount of household labor that women do. And there certainly remains a persistent gap in caregiving that falls along gendered lines in most marriages. So, we've changed a lot, but in some ways, we haven't changed at all.
Marriage isn't for everyone, and there should be a variety of alternative options for those who wish to be in a committed, recognized relationship, but don't want to be married for any number of reasons.
Ironically, the marriage equality movement may signal the death knell of efforts to promote a wider range of relationship recognition options. Already, the State Department has announced that it's phasing out domestic partnership benefits. Now that marriage is available, same-sex couples — like straight couples before them — are expected to get married in order to receive benefits.
One of the questions going forward is will we think more seriously about what to do about those kinds of relationship forms. Or will marriage really be a one size fits all kind of model for everyone.
Marriage privatization is the concept that the state should have no authority to define the terms of personal relationships such as marriage. Such relationships are best defined by private individuals and not the state. Privatizing marriage is a solution to the social controversy over same-sex marriage.
The idea of marriage privatization is picking up steam.  State marriage is a way for politicians to socially engineer the family through the tax code.  It would be a good idea to get the government out of the marriage business.
39.7 percent of all births are to unmarried women. Nearly 40 percent of heterosexual, unmarried American households include children. 41 percent of first births by unmarried women are to cohabiting partners.
Does the law leave provisions for the children of the unmarried? Of course. So while state marriage might add some special sauce to your tax bill or to your benefits package, family court and family codes aren't likely to go anywhere, whatever we do with marriage. This is not a sociological argument about whether children have statistically better life prospects when they are brought up by two married parents. Nor is it a question about gender, sexuality, and parental roles. It's simply a response to the idea that marriage is irreducibly public due to having children. Some married couples never have children.
Marriage is currently a crazy quilt of special privileges and goodies that everybody wants access to — unmarried people be damned. But marriage should confer neither special favors nor goodies from the state. We can quibble about who is to be at the bedside of a dying loved one. Beyond that, marriage is mostly about equal access to government-granted privileges.
Not only does the idea that marriage is irreducibly public represent a failure of imagination with respect to robust common law, it also resembles arguments made against privatization in other areas, such as currency, education, and health care. Just because we can't always envision it doesn't make it impossible.
In ancient Greek and Roman civilization, marriages were private agreements between individuals and families. Community recognition of a marriage was largely what qualified it as a marriage. The state had only limited interests in assessing the legitimacy of marriages. Normally civil and religious officials took no part in marriage ceremonies, nor did they keep registries.