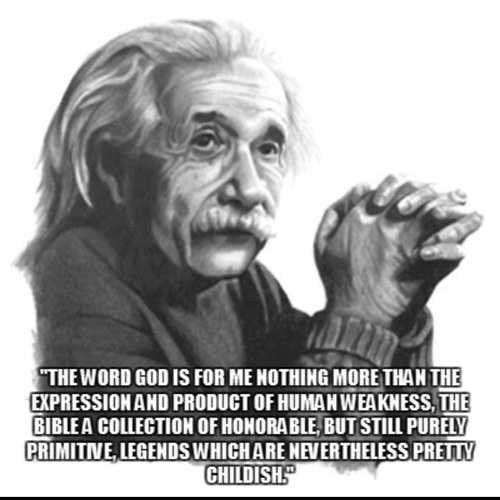 At least one in five Brits believe Jesus, Gandhi, and Martin Luther King Jr. were extremists, a recent survey has revealed. The poll, carried out by ComRes for the Evangelical Alliance earlier this month, asked over 2000 British adults nationwide whether they considered certain figures to be extreme.
God is the biggest hoax of all times! The relationship people have with the real world has changed. Throughout time, individuals have tried to escape the reality of life, through religion, drugs, or alcohol. Today, modern technologies allow a genuine democratization of the unreal. Everyone can live in a parallel world consisting of gods, prophets, avatars, churches, video games, augmented reality, or sitcoms. Each can lead an alternative life by proxy.
Atheism is the smart zeitgeist. Today we know very well we are just a sort of apes, all religions are wrong, there is no God, there is no afterlife, and all miracles are hoaxes. God is the most unpleasant character in all fiction! But many people refuse to accept reality that when they die that will be the very end of them, that they will cease to exist.  Hoi polloi live on wishful thinking that they will live forever near God in another life! Hitler used to say that hoi polloi believe big lies, not small lies!
It was found that 28 per cent of UK residents considered Jesus an extremist. A quarter of those asked also believed Martin Luther King was an extremist, and 20 per cent thought the same of Mahatma Gandhi.
David Landrum, director of advocacy for the Evangelical Alliance, told us: The poll shows the scale of moral confusion in our society with the public having no way of deciding whether something is extreme or not.
All religions are big lies. Basic to religion is a presumed distinction between humans and animals, and a presumed uniqueness of humans in the universe. Based on evolutionary biology and astronomy, science rejects this stupid distinction. God is imaginary and religion is a complete illusion. Belief in God is nothing but a silly superstition, which leads a significant portion of the population to be delusional.
Bible and Qur'an express toleration for slavery and regard women as subordinate to men. Religious morality is impoverished to the point of bankruptcy. If we rely on religion, there is a certainty we will fail. Religion has nothing to offer but taboos without a clue.
The poll also found that 36 per cent of the public thought it was extreme for the UK to leave the EU, while 30 per cent thought it was extreme to remain in it.
"The willingness to classify political views which should be respected, such as leaving or staying in the EU, as 'extreme', shows the danger of focusing the extremism debate on beliefs we may find uncomfortable or disagree with, rather than on actions that threaten lives," Landrum told us.
Other results showed 41 per cent of the British public found it extreme to believe marriage should be between a man and a woman and 37 per cent didn't think it was extreme for children not to be assigned a gender at birth.
The survey comes after Theresa May announced plans to set up a Commission for Countering Extremism, an idea which she reiterated in a statement at Downing Street last month. "There has been far too much tolerance of extremism in our country over many years – and that means extremism of any kind, including Islamophobia. This is why this government will act to stamp out extremism and hateful ideology, both across society and on the internet," she said.
A parliamentary report last year revealed ministers 'struggled to define extremism' and stated 'it was far from clear that there is an accepted definition of what constitutes extremism, let alone what legal powers there should be, if any, to combat it.'
Landrum fears this confusion about the definition of extremism could create problems when trying to deal with it. "Detached from terrorism and incitement to violence, extremism does not work as a litmus test for judging peaceful beliefs and opinions. Indeed, the government have tried and failed over the last two years to define extremism without any precision and this poll shows that the public share that confusion. It therefore seems unlikely that a newly established quango, such as extremism commission, will solve such problems. It is not wise to foster a society where volatile public opinion can be used to determine what might be extreme or acceptable views," he told us.
The level of socio-pathology caused by a religious meme or meme complex depends, at least in part, on the degree to which it leverages compulsion as part of its reproductive strategy. Religious compulsion might refer to the level of threat and fear a religion uses to win and keep converts, or the degree of obsessive thought and compulsive behavior it engenders in believers. But compulsion is likely to be just one part of the picture, because the experience of many religious believers is that they practice their faith freely and happily, even when this may seem dubious to outsiders.
When Jesus announced that we should cut off body parts, he was telling others to harm themselves. There were entire monastic orders that castrated themselves because Jesus said in Matthew 19:12 that "he that is able to receive it, let him receive it." Every year in the United States we read about one or two men who mutilate themselves in order to prove their obedience to Jesus!  This only shows that Jesus was immoral.
Chryse Pege, Golden Source, is the most infamous gay mafia of the Greek Orthodox Church, organized by the late archbishop Christodoulos.  The corrupt Church of Greece greatly contributes to the moral decline of Greek society.  Nevertheless, religion is protected by lèse–majesté! The barbarity and corruption of Greek bishops is beyond imagination, heavily involved in skulduggery, orgies, trial rigging, drug and antiquities smuggling, money washing, robberies, inheritance dirty games, election manipulation, and so it goes. Bishop Ambrosios of Kalavryta, godfather of Chryse Pege, blasted Education Minister Nikos Filis over his decision to replace the current religious studies from the school curriculum with a lesson on comparative world religions. During his speech at Church, Ambrosios pleaded to Jesus that Fili's arm would rot before he signed the decree! Ambrosios also had a few words for those not fasting by eating meat. He said he hoped the meat would turn to poison and puncture their stomach!
Catholics are upset about the pedophilia of their bishops, but this is nothing comparing it to pedophilia and homosexuality of the Greek gang of the late archbishop Christodoulos.  Christodoulos surpassed all corruption of all ayatollahs and bishops on planet Earth for all times!  He marched on dead bodies to become the archbishop of Athens, and then tried to transform Greece to a super-corrupt Orthodox theocracy.  He also destroyed my father with false accusations. I hate the motherfucking Christodoulos like hell! Greeks used to call him ayatollah Christollah!  If there is hell, he is definitely there!  Let him rot, wherever he is.  Amen!