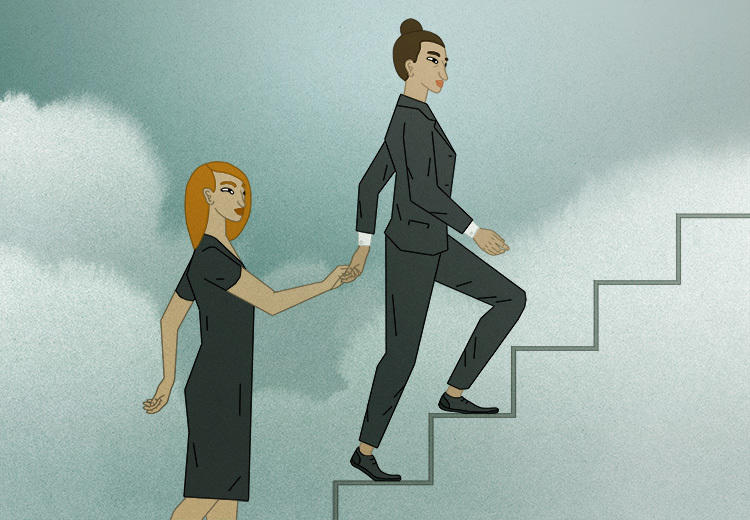 A new Diversity and Inclusion Charter and fresh action to reach at least 40% women in its management by 1 November 2019 are two key features of the Commission's new human resources policy.
Beware the danger of Feminism Lite. It is the idea of conditional female equality. Please reject this entirely. It is a hollow, appeasing and bankrupt idea. Being a feminist is like being pregnant. You either are or you are not. You either believe in the full equality of men and women, or you do not.
Feminism Lite uses analogies like "He is the head and you are the neck." Or, "He is driving but you are in the front seat." More troubling is the idea, in Feminism Lite, that men are naturally superior but should be expected to "treat women well." No. No. No. There must be more than male benevolence as the basis for a women's well-being.
The purpose is to create a better workplace for all – including women, staff with disabilities, Lesbian, Gay, Bisexual, Transsexual and Intersex (LGBTI) staff and older staff. Concrete steps will be taken to make best use of the talent of all of the Commission's employees.
Commissioner Gunther H. Oettinger in charge of budget and human resources said: "We want our staff to be valued and accepted, irrespective of their age, gender, sexual orientation or disabilities. If we build on this diversity, we will be more innovative and deliver better results for our citizens.
Feminism Lite uses the language of "allowing." Theresa May is the British prime minister, and here is how a progressive British newspaper described her husband: Phillip May is known in politics as a man who has taken a back seat and allowed his wife, Theresa, to shine.
Allowed. Now let us reverse it. Theresa May has allowed her husband to shine. Does it make sense? If Phillip May were prime minister, perhaps we might hear that his wife had "supported" him from the background, that she was "behind" him or that she'd "stood by his side," but we would never hear that she had "allowed" him to shine.
"Allow" is a troubling word. "Allow" is about power. A husband is not a headmaster. A wife is not a schoolgirl. Permission and being allowed, when used one-sidedly — and it is nearly only used that way — should never be the language of an equal marriage. Another egregious example of Feminism Lite: men who say, "Of course a wife does not always have to do the domestic work; I did domestic work when my wife traveled."
A true equal opportunity workplace: at least 40% in female management
In addition to the Diversity and Inclusion strategy, the Commission has today adopted a set of robust measures to bring female representation in its management to at least 40% by 1 November 2019. These include individual targets for all Commission departments when it comes to appointing someone as Head of Unit for the first time. Departments that are falling behind their targets may be asked to attract suitable female candidates before proceeding with an appointment.
These measures come on top of those adopted earlier, including efforts to identify, develop and support female talent, targeted training sessions as well as mentoring.
A better workplace for all: the Commission's Diversity and Inclusion strategy
The Diversity and Inclusion strategy focuses on four main target groups: women, staff with disabilities, LGBTI people and older staff.
The strategy contains cross-cutting but also specific measures to address the concerns of each of these groups, including:
–    For women, specific management programmes and support for existing and new women networks
–    For disabled staff, involvement in the planning of access and mobility facilities in Commission buildings.
–    For LGBTI, awareness activities and trainings for managers and staff, in particular to address any unconscious bias.
–    For older staff, monitor whether they face any discrimination when applying for new jobs.
The strategy will start a process of reporting, monitoring and further fine-tuning of proposed measures. The first Diversity and Inclusion Report will be published in spring 2018.
The Diversity and Inclusion Strategy is part of the ongoing efforts of the Commission to make the best use of its talent.
Today's measures also aim to deliver on the commitment of the Juncker Commission towards the Commission staff. They follow President Juncker's mission letter to Commissioner Oettinger, in which the Commissioner was asked to develop "a diversity strategy for the personnel and administrative policy of the Commission" and to "achieve our common target of 40%" of female management in the Commission.
Last year, the Commission adopted its talent management strategy. It focused on promoting mobility among its middle management.
Organisations that embrace a diverse workforce and are inclusive to all tend to deliver better results, innovate more and are able to take better decisions.
Our world is full of men and women who do not like powerful women. We have been so conditioned to think of power as male that a powerful woman is an aberration. And so she is policed. We ask of powerful women: Is she humble? Does she smile? Is she grateful enough? Does she have a domestic side? Questions we do not ask of powerful men, which shows that our discomfort is not with power itself, but with women. We judge powerful women more harshly than we judge powerful men. And Feminism Lite enables this.
At first glance, woman interrupted may seem like a small problem, but it reflects deeper issues of gender inequality at work and in society. Women struggle every day to get their space in the workplace and the right to express themselves. When they get there, manterrupting reduces their participation. Women want men to ask themselves: Am I doing this without even realizing it? After all, what's the point of having more women in a meeting room if nobody hears what they have to say?