David Webb issued a report titled The Enigma Network: 50 stocks not to own. Most of the shares he named have now abruptly plunged, pointing to chronic regulatory problems over small-cap shares.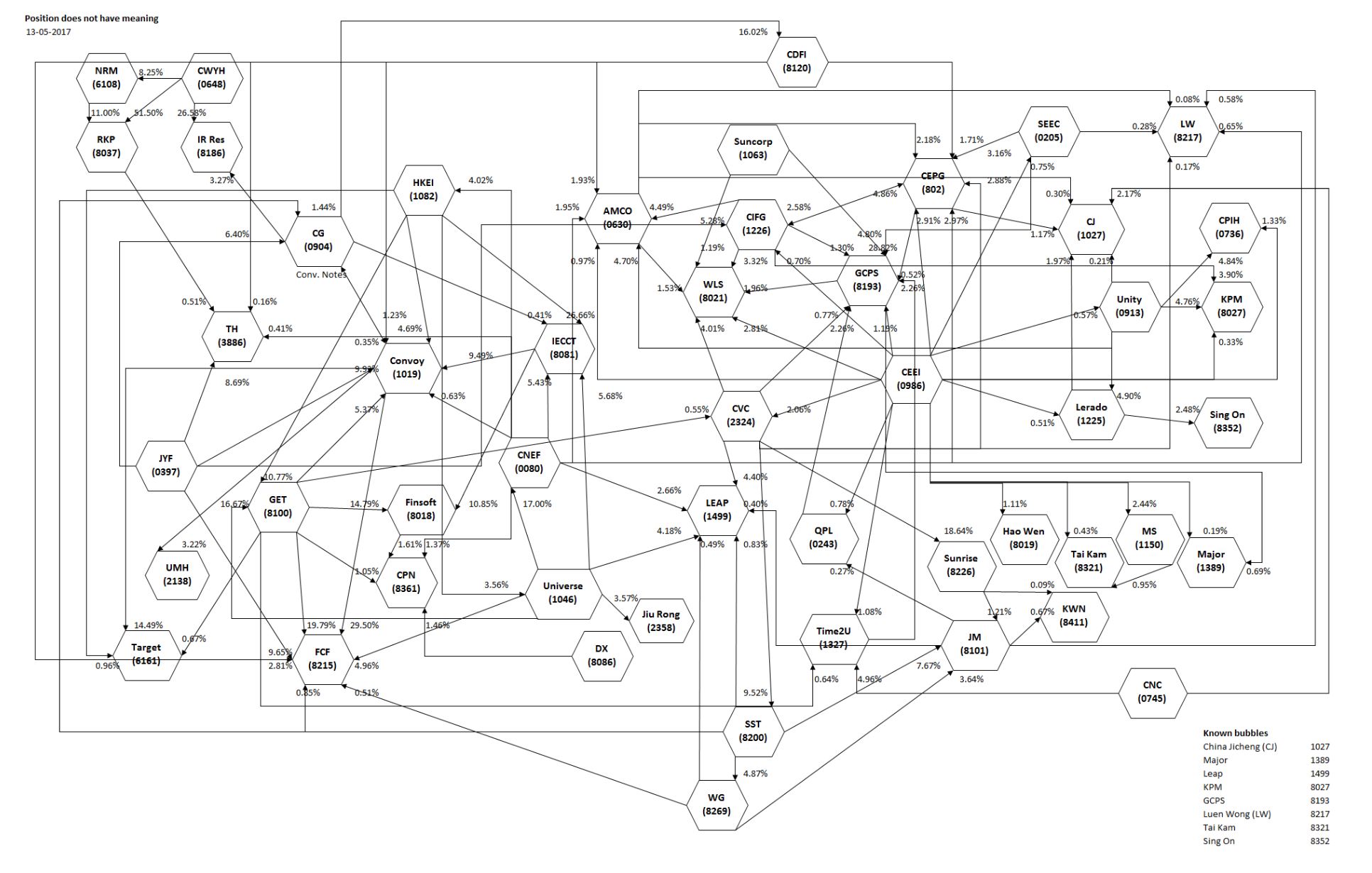 The only sure way of making money is through insider trading!  That's why most traders are insider traders, real or imagined.  The trick of the game is to differentiate an insider tip from a malevolent rumor and from a stupid rumor.  That's where experience comes in.  I have been trading the markets for forty years, and I can smell the bullshit instantly. Insider trading is very healthy, because it helps the markets reach the equilibrium point soon.  All insider trading legislation is stupid.  You just cannot put all people in jail!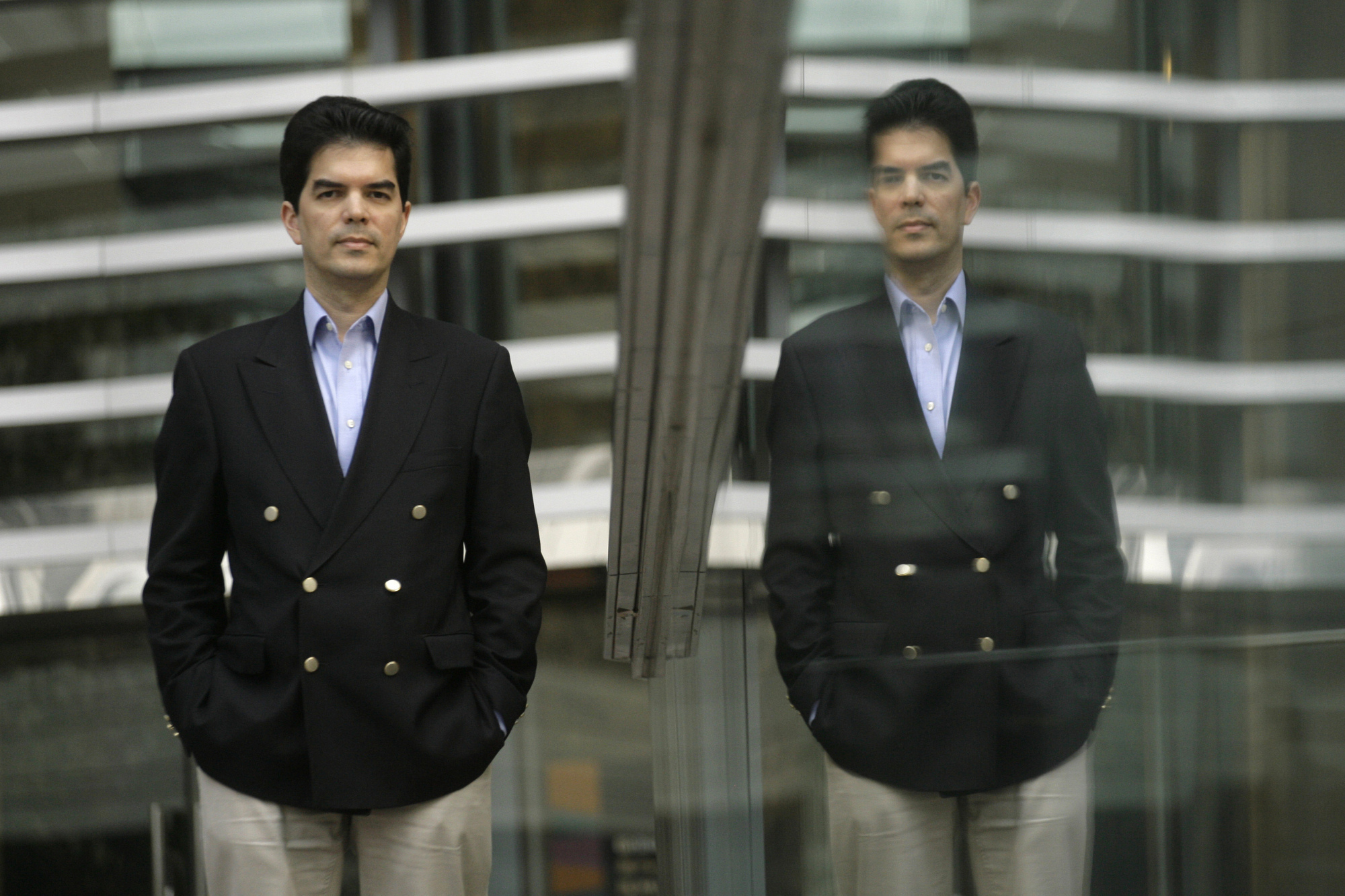 Webb's report mapped out a complex web of cross-shareholdings between companies listed on both the main board of the Hong Kong exchange and its sibling, the Growth Enterprise Market, which created a breeding ground for volatility.
The biggest decliners showed characteristics that have long worried regulators and which Webb highlighted in his report: high shareholding concentrations, unrealistic valuations, and complex relationships between companies and listed brokerages.
The permanent political class enriches itself at the expense of the rest of us. Insider trading is illegal, yet it is routine among kleptocrats. Normal individuals cannot get in on IPOs at the asking price, but kleptocrats do so routinely. Kleptocrats also get many hot issues, bypassing all fair procedures of distribution.  By funneling hundreds of millions of dollars or euros to supporters, even more campaign donations are ensured. An entire class of investors now makes all of its profits based on influence and access to kleptocrats.
Kleptocrats have transformed politics to trade. They are traders who use their power, access, and privileged information to generate wealth. And at the same time well-connected financiers and corporate leaders have made a business of politics. They come together to form a kleptocratic caste.
The Hong Kong government and regulators are growing increasingly concerned that a series of company scandals, many of them centered on mainland companies listed in Hong Kong, have tarnished the territory's reputation as a financial center as it marks the 20th anniversary of its handover to China this weekend.
Webb, a successful investor and author who studied mathematics at Oxford, told us on Wednesday he had come across the network through his own research into annual reports and company disclosures.
"I picked up on this network years ago when they started building it. The meltdown shows these stocks are closely related," he said.
His report only covers cross-shareholding relationships but the companies also have many directors in common as well as related transactions, Webb told us. The purpose of such network is to defraud investors – extract and misappropriate money and part of that involves manipulating stocks.
Webb, an outspoken critic of the Hong Kong market since he quit the HKEX board in 2008, told us: I can only speculate. But it's possible margin calls have been triggering the sell-off. It's possible the brokers involved have been told to stop lending against those shares. Maybe the people operating the network have decided to dump and run. The bigger picture here is that this again reminds us that the current regulatory system is not working and these problems have been allowed to build up by the Hong Kong exchange (HKEX). I blame the independent market regulator, the Securities and Futures Commission (SFC), for not stopping it.
Political intelligence consultants are hired guns who dig for closely held information to be used to trade stocks. Many work for hedge funds and securities firms, who just happen to be some of the biggest political campaign contributors.
While everyone has the same right to be a constituent and the same right to be part of a political discussion, the opportunity just isn't always there. There's limited time and resources for everyone to be involved in every discussion. This incentivizes brokerages to cultivate or simply purchase political connections in order to preserve privileged access to profitable information. This flow of information is more difficult to regulate than lobbying, which is regulated, because it is traveling in the opposite direction, that is, from politicians to their constituents.
SFC told us: The stocks which have experienced large price declines yesterday occupy a market segment characterized by thin turnover, small public floats, high shareholding concentrations, and multiple relationships between different companies and listed brokerage firms. These characteristics can be especially conducive to extreme volatility and also to market misconduct.
The exchange denied speculation it was planning to delist thinly traded shares.
WLS Holdings, which had a market value of HK$409 million, was the biggest loser on Wednesday with its shares sliding 47 percent, while Greaterchina Professional Services Ltd (8193.HK) dropped 34 percent after a 93 percent drop on Tuesday.
Trading without inside information is a handicap!  Inside trading is the normal thing to do. Otherwise, the odds are stack against you, as almost everybody else is insider trader. Handicapped traders eventually lose all their money, throwing it in the black hole of ignorance.  Be an insider trader, or do not trade at all.  Technical analysis is ridiculous, and fundamental analysis is yesterday's news.  Inside trading is the only way to trade!
Insider traders can escape prosecution by publishing a sponsored post with the inside information before they trade it.   If the trade ticket shows a time stamp after the publication of a sponsored post, nobody can touch them, because it's considered public information, not insider information anymore! 
Webb opposed a recent HKEX proposal to add a third board, catering to start-ups, and argued the two existing boards should be merged and put under the jurisdiction of the SFC.
Hong Kong also needs a class action legal provision so investors can hold boards accountable. All companies should be compelled to file results on a quarterly basis, with restrictions on how much companies can invest in other stocks.
Webb, a member of the SFC's takeover panel, has been a thorn in the side of the establishment and Hong Kong's mega-rich business elites through his public commentary for much of the past 26 years he has been resident in the city.
Last year, however, Webb told us he would dial back his commentary and public activism in frustration that his efforts had yielded little change in the financial hub over the years.
The HK$28.6 trillion ($3.7 trillion) market has grown nine-fold since the former British colony reverted to China rule in 1997, largely on an influx of listings from mainland firms. They now make up two-thirds of market value and represent 90 percent of the funds raised from IPOs in the five years to 2016.
Investors seem to discount the market, with the Hang Seng index .HSI trading at around 14 times earnings, versus 22 times for world stocks and 23 times for U.S. equities.
SFC, along with the Hong Kong stock exchange, have issued several warnings over concentrated shareholdings in penny stocks listed on the GEM. The average first-day price rise for a GEM company debut during the first half of 2016 was 454 percent due to such concentrations, SFC data shows.
This month the HKEX launched a wide-ranging consultation to try to address this problem, including a proposal to raise the minimum market capitalization by 50 percent to HK$150 million and increasing the cash flow requirement for initial listings.
Legislators do not understand that the objective of insider trading laws is counter-intuitive, to prevent people from using and markets from adjusting to the most accurate and timely information. The rules target non-public information, a legal, not economic concept. As a result, we are supposed to make today's trades based on yesterday's information. Unfortunately, keeping people ignorant is economic folly. We make more bad decisions, and markets take longer to adjust.
Insider trading laws imbalance markets by regulating only one-half of the trading equation. A good investor makes money by knowing when not to buy or sell as well as when to buy or sell. Many insider tips alert owners to hold their shares or not to buy other ones. The sooner people act on accurate information the sooner the market will reach the equilibrium price. Interfering with the adjustment process by prosecuting people for insider trading will take the market longer to adjust.
Individuals and companies are entitled to keep proprietary information and punish those who violate that trust. But the offense should be civil, not criminal. And the punishment should fit the charge. In no case is the government justified in using intrusive enforcement measures developed to combat violent crime. The government should stop punishing investors seeking to act on the most accurate and timely information. After all, that's what the financial markets are all about.
Insider trading creates an arcane distinction between non-public and public information.  It presumes that investors should possess equal information and never know more than anyone else. It punishes traders for seeking to gain information known to some people but not to everyone.  It inhibits people from acting on and markets from reacting to the latest information. Enforcing insider trading laws does more to advance prosecutors' careers than protect investors' portfolios.  Information will never be perfect or equal.