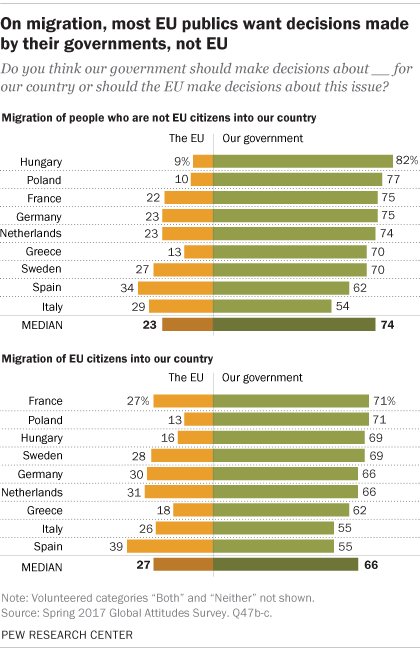 People in Europe overwhelmingly oppose the European Union's (EU) handling of the migrant crisis, and want national governments to have final say over their countries' migration policies, according to a new survey.
One billion niggers and ragheads will try to invade EU in ten years.  Smugglers in cahoots with NGOs make billions of euros every month.  This madness brings uncontrollable crimes and the grand clash of cultures. It will cost Europeans trillions of euros, the loss of their countries, and the loss of their freedom.  This is the end of Graecoroman civilization and the start of the global caliphate. So long Europe!  So long!
In our digital age with the internet and mobile phones, everyone knows about our prosperity and lifestyle. The answer to illegal migration is not fatalistically to sit back and wait for the migrant influx. The answer is, based on a new starting-date, to change EU's outdated and unsustainable welfare policies, which stem from a pre-globalization era, and in this way actively work to make it less attractive for millions of migrants to venture to EU in the first place.
Pew Research found three quarters of respondents said they want their own governments to make decisions on migration of non-EU citizens into their countries.
Across the bloc, 74 per cent overall said national governments should be in control of migration policies, with the figure highest in Hungary (82 per cent) and Poland (77 per cent), whose governments have boycotted the EU's migrant quota system.
But the sentiment was shared in Western Europe among 75 per cent of French respondents, 74 per cent of Dutch, 70 per cent of people in Greece and 70 per cent in Sweden.
Pew reports that while in most of Europe, it is people on the political right who want border control back in the hands of national governments, in Spain it is people aged 18-29 who want to see migration powers repatriated to Madrid.
66 per cent of people across the bloc disapproved of Brussels imposing migrant relocation quotas on its member states.
Opposition to the EU's handling of immigration was highest in Greece (91 per cent) and Italy (81 per cent), which have been on the front lines of the crisis with migrants arriving in boats.
People in countries which have taken the largest number of migrants were also dissatisfied with the bloc's migration policies, with 59 per cent of Germans saying they disapproved, and 78 per cent of Swedes.
The EU announced last week that it would take legal action against Poland, Hungary and the Czech Republic for refusing to welcome quotas of third world migrants assigned to them by Brussels.
Polish Interior Minister Mariusz Błaszczak said giving in and taking the more than 6,000 migrants allocated by Brussels would "certainly be much worse" for the nation than the threat of EU sanctions, citing the terror threat in Western Europe as a result of mass migration.
Speaking this week to condemn the EU's decision to launch proceedings against countries for not taking migrants, iconic former president of the Czech Republic Vaclav Klaus said withdrawing from the bloc is the only way to save the country from forced multiculturalism.
European leaders appear not to care that their continuing migration policies and welfare systems support an entire industry of human traffickers, who prey on the desire of hopeful migrants to reach Europe; the traffickers are making billions. Migrant smuggling has emerged as one of the most profitable and widespread criminal activities for organized crime in EU. The migrant smuggling business is now a large, profitable and sophisticated criminal market, comparable to the European drug markets. European politicians are indirectly responsible for the existence of this industry.
We are – these days – confronted not only with the old, well-known, quite natural, because gradual and evolutionary, phenomenon of individual migration but with a conceptually different phenomenon of mass migration. This is something else, not only quantitatively. Many politicians and their fellow travelers in the media and in the academy either do not understand this difference or pretend not to. They try to deal with mass migration as if it was the case of individual migration, which it is not. To my great regret, some old-fashioned liberals – who are traditionally against all kinds of borders – are making the same mistake, the mistake of not looking carefully enough and of not differentiating.
Everything indicates that it has become more or less a universal issue. Europe makes mass migration – due to its peculiar institutional arrangements and to its apparent absence of democracy – much easier. Mass migration has become a new, innovative social experiment of our era. The whole European continent has been transformed into an experimental laboratory.
The most important cause of the current mass migration is the radical shift in ideas, not a new, more tragic than in the past situation in countries from where the people migrate. As a consequence, people in many unsuccessful, poor and underdeveloped, broken, non-democratic, ungoverned or chaotic countries got the feeling that they have a right to migrate, to depart to more successful, rich, developed, orderly functioning, democratic countries which – in addition to it – offer generous social benefits to all newcomers.
It is – methodologically – very important to see that the concentrating on failed or broken countries covers only the supply-side of the whole story. This represents a huge limitless migration reservoir. It – in itself – cannot bring about migration. To make mass migration possible, there needs to be also a demand-side.
The demand for migrants – in spite of all the political rhetoric suggesting the opposite – comes from Europe. It was not only the reckless and ill-conceived explicit welcoming gesture made by Angela Merkel and some other leading European politicians in the summer of 2015. This was just the last drop. The European – perhaps more implicit than explicit – demand for mass migration has several distinct, but mutually reinforcing factors – some of them ideological, some systemic, some policy-driven.
The modern or post-modern ideological confusion connected with the ideas of multiculturalism, cultural relativism, continentalism (as opposed to the idea of nation-state), human-rightism and political correctness becomes the principle factor. It destroyed the traditional way of looking at the origin and organization of human society. It replaced the orientation towards a nation (or a nation-state) with continental or planetary thinking. It proclaimed that diversity was more than social cohesion and homogeneity. It sacrificed civil rights in favour of human rights. It changed the concept of rights from negative to positive ones. It incorporated migration among human rights, etc., etc.;
Not less important is the fact that the European (and Western) society has been gradually transformed from a society heralding performance, results and achievements, production and work to a society based on entitlements. Due to it, the economic and social policy has switched from the concept of a market economy to the concept of a social market economy where the adjective social has become more important than the nouns market and economy. Potential migrants understood the significance of this destructive shift very rapidly. They are not coming into Europe as a labour force but as recipients of all kinds of social benefits;
There is one Europe-specific factor. The original, post-second world war concept of the European integration has been transformed with the Maastricht and Lisbon treaties into the concept of unification. It has led
– to the weakening of nation-states and to the fundamental undermining of their sovereignty;
– to the elimination of borders throughout the European continent. Instead of introducing easily crossable borders, the borders were abolished with all kinds of unavoidable consequences;
– to the weakening of democracy and to the creation of a post-democratic, bureaucratically run Europe. It enormously enhanced the role of the European strongest country, Germany, and – symmetrically – it lowered the role of smaller EU member states. It brought about a typical imperial structure of society;
These processes led to the reappearance of old dreams about creating a new Europe and a new European man, someone who would be entirely deprived of his/her roots in individual nation-states. Migrants are believed to become the ideal input in the pan-European society, hence, the more of them, the better. I don´t suggest that this intention has been openly and explicitly formulated by all European politicians, but this mode of thinking has become – at least implicitly – a driving force behind the current migration deadlock.
Mass migration into Europe – much more than terrorism, which is just a supplementary factor – threatens to destroy European society and to create a new Europe which would be much different from the past as well as from a libertarian way of thinking.
Europe is committing suicide. By the end of the lifespans of most people currently alive Europe will not be Europe and the peoples of Europe will have lost the only place the world we had to call home. This cataclysm has two causes: mass immigration and Europeans' loss of faith in European beliefs, traditions, and legitimacy. Europeans feel guilty about their past; they're jaded, weighted down by an existential tiredness, a feeling that their corner of the world has run out of steam and that their culture, for which they have insufficient regard, might just as well be replaced by another.
Tory MP Enoch Powell, one of the most brilliant and accomplished men of his time, in 1968 gave an extraordinary prescient oration, the so-called Rivers of Blood speech, in which he warned of the long-term results of UK immigration policy. Instead of prompting the immigration controls that 75% of his countrymen wanted even back then, the speech ended Powell's career and made his name synonymous with hatred. Three out of four members of the general public were with him, but to the elite he was Hitler – and his instant official disgrace made it impossible, during the ensuing decades, to have anything remotely resembling an honest public debate on immigration. The Muslims kept pouring in, and though most Brits disapproved, they kept their heads down, shrugging silently. What else could they do? They knew that if they spoke up, they'd get the Powell treatment.
Meanwhile, slightly different versions of the same tragedy (or farce?) were being played out across northwestern Europe. Everywhere, the natives were lied to by their politicians and media: the scale of immigration, they were told, was far lower than widely believed; their country had always been "a nation of immigrants"; immigrants represented a net economic asset; crime statistics were inflated; and, naturally, Islam was a religion of peace. Those who criticized immigration – because they saw their culture disappearing, their secular democracy challenged, their taxes going to support indolent, criminal aliens, and their own access to housing and schools cut off by policies that favored foreigners – were called racists and nationalists, were accused of being fixated on skin color, and were ridiculed for failing to have a sophisticated enough appreciation of the value of cultural diversity.
If Britain had Powell's speech, France had a strange prediction, Le Camp des Saints (1973), in which Jean Raspail envisioned a rapid conquest of western Europe by shiploads of Third Worlders crossing the Mediterranean. Just as Merkel triggered the latest immigrant tsumani by setting out a welcome mat, in Raspail's book the invasion is set off by an ill-advised invitation by the Belgian government. Le Camp des Saints is deeply unpleasant in its depiction of the immigrant hordes, but although it was almost universally dismissed as racist, it predicted with uncomfortable precision Europe's response to today's alien influx – from the dithering politicians to the naively magnanimous churchmen.
The Dutchmen Pim Fortuyn and Theo van Gogh, who were demonized for criticizing mass Islamic immigration, ended up slain. Oriana Fallaci's cry of outrage, The Rage and the Pride (2002), sold millions. How long ago all this seems! Fortuyn and Fallaci gained innumerable admirers. But what difference did any of it make? At certain moments all those years ago, some form of salvation seemed just around the corner. Yet the elites retained their power and kept banging away at the lies. And things just got worse.
Not just worse, crazier. When terrorist acts occurred, they were treated as one-offs, unrelated to immigration or Islam. British police covered up mass rapes of English girls by Muslim men for fear of being called racist. Rape victims kept mum for fear of inflicting visa problems upon their assailants, or, more generally, for fear of contributing to Islamophobia. Courts protected brutal Muslim criminals, some of them illegal aliens, from expulsion for fear they'd face trouble in their homelands – never mind the trouble they'd already caused to any number of European natives. While preachers of sharia Jew-killing were tolerated, if not presented with awards for being exemplary community leaders and bridge builders, critics of those preachers were put on trial. Europeans were told repeatedly that their nations' imperial histories obliged them to shelter descendants of their former colonial subjects; but no one ever talked this way about the Turks' own Ottoman Empire. And when Eastern European leaders kept out Muslims – and thereby kept violent crime, welfare costs, and other horrors that were becoming increasingly familiar in Western Europe – EU honchos railed at them to open their borders and share in the nightmare.
Under Communism, Eastern Europeans retained the tragic sense of life that many Western Europeans had long since lost; later, freed from Soviet despotism, they joined the EU only to find themselves being ordered around again – this time, being commanded to open their borders to what they, if not their Western European counterparts, recognized quite clearly as tyranny, though in a form different from the tyranny they had lived under. To these EU diktats they said no, in thunder. Eastern Europe's experience with totalitarian oppression was so recent and so long that it is still able to discover real meaning in the word freedom – a word that educated Western Europeans have been taught for decades now to pronounce with a sneer.
Swedish prime minister Fredrik Reinfeldt actually told his people, in a televised speech, that they were themselves uninteresting and that the nation handed down by their forebears for generation after generation belonged more properly to the masses who were currently pouring in from the Muslim world. Any self-respecting people would have been outraged and – well, would have done to Reinfeldt what the British elite did to Enoch Powell. But no, the Swedes just nodded in acceptance. Their betters had been telling them this sort of thing for so long that they were used to it.
We witness the crime of breathtakingly tragic readiness of millions of supposedly responsible adults to betray their country and culture, their antecedents and their posterity, to an alien and minatory invader. The craven European elites have, unforgivably, opened the city gates to let in the Trojan horse.