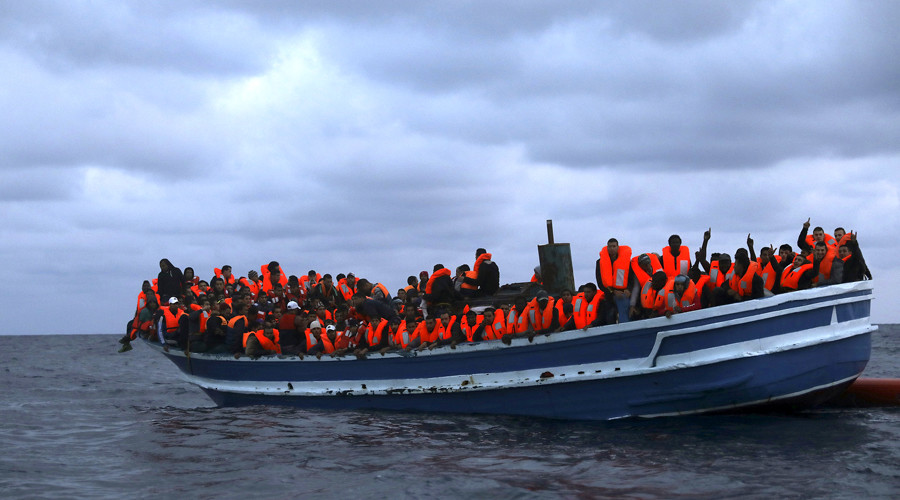 More than 2,500 migrants were taxied off the Libyan coast in the past 48 hours while attempting to cross the Mediterranean in flimsy dinghies. At least eight people have died and dozens are feared missing.
One billion niggers and ragheads will try to invade EU in ten years.  Smugglers in cahoots with NGOs make billions of euros every month.  This madness brings uncontrollable crimes and the grand clash of cultures. It will cost Europeans trillions of euros, the loss of their countries, and the loss of their freedom.  This is the end of Graecoroman civilization and the start of the global caliphate. So long Europe!  So long!
"Eight corpses have been recovered so far and at least 52 people are feared missing from two incidents involving large numbers of people on flimsy dinghies off the coast of Libya on Saturday," Director of Europe Bureau of the UN Refugee agency (UNHCR) Vincent Cochetel told us.
In all, over a dozen search-and-rescue operations, coordinated by the Italian Coast Guard, were launched over the weekend. The rescued migrants are expected to be disembarked in Italy over the next few days.
In our digital age with the internet and mobile phones, everyone knows about our prosperity and lifestyle. The answer to illegal migration is not fatalistically to sit back and wait for the migrant influx. The answer is, based on a new starting-date, to change EU's outdated and unsustainable welfare policies, which stem from a pre-globalization era, and in this way actively work to make it less attractive for millions of migrants to venture to EU in the first place.
"UNHCR applauds the rescue efforts by European government authorities, the Italian Coast Guard and NGOs, but is deeply saddened that the death toll continues to rise," Cochetel told us.
Over 1,770 people are estimated to have perished or gone missing while trying to cross the Mediterranean so far this year, while more than 50,000 migrants reached Italian shores, most of them through Libya.
The death toll among migrants trying to reach Europe is believed to be much higher, according to the UNHCR, though, as many of them presumably die in the Sahara desert without even making it to the Libyan coast.
The migrant death toll is expected to spike in the next few months with the beginning of summer sailing season.
While urging to strengthen international efforts to save people attempting to cross the Mediterranean, UNHCR stated that the "solutions cannot just be in Italy." Italy has on numerous occasions said that it has not enough resources to deal with the migrant influx from Libya.
The mixed flows of people through East and West Africa towards Sudan, Niger and Libya continue unmanaged, and cruel smuggling networks flourish.
"We urgently need renewed efforts to find different solutions for refugees and migrants in the countries they cross before they reach Libya, given the insecurity in that country and vulnerability of people on the move to horrific exploitation and abuse."
The agency also called for the development of alternative and safe pathways" so that the people would not undertake such dangerous journeys to Europe.  The proposed alternatives echo the measures discussed by G7 leaders during a recent summit in Sicily, with a focus on providing greater assistance to African countries to encourage potential migrants to stay home instead of setting off on the dangerous journey to Europe.
No concrete plan of action, however, was agreed upon during the summit, as the leaders only managed to reaffirm the sovereign rights of states to control their own borders and set clear limits on net migration levels.
European leaders appear not to care that their continuing migration policies and welfare systems support an entire industry of human traffickers, who prey on the desire of hopeful migrants to reach Europe; the traffickers are making billions. Migrant smuggling has emerged as one of the most profitable and widespread criminal activities for organized crime in EU. The migrant smuggling business is now a large, profitable and sophisticated criminal market, comparable to the European drug markets. European politicians are indirectly responsible for the existence of this industry.
We are – these days – confronted not only with the old, well-known, quite natural, because gradual and evolutionary, phenomenon of individual migration but with a conceptually different phenomenon of mass migration. This is something else, not only quantitatively. Many politicians and their fellow travelers in the media and in the academy either do not understand this difference or pretend not to. They try to deal with mass migration as if it was the case of individual migration, which it is not. To my great regret, some old-fashioned liberals – who are traditionally against all kinds of borders – are making the same mistake, the mistake of not looking carefully enough and of not differentiating.
Everything indicates that it has become more or less a universal issue. Europe makes mass migration – due to its peculiar institutional arrangements and to its apparent absence of democracy – much easier. Mass migration has become a new, innovative social experiment of our era. The whole European continent has been transformed into an experimental laboratory.
The most important cause of the current mass migration is the radical shift in ideas, not a new, more tragic than in the past situation in countries from where the people migrate. As a consequence, people in many unsuccessful, poor and underdeveloped, broken, non-democratic, ungoverned or chaotic countries got the feeling that they have a right to migrate, to depart to more successful, rich, developed, orderly functioning, democratic countries which – in addition to it – offer generous social benefits to all newcomers.
It is – methodologically – very important to see that the concentrating on failed or broken countries covers only the supply-side of the whole story. This represents a huge limitless migration reservoir. It – in itself – cannot bring about migration. To make mass migration possible, there needs to be also a demand-side.
The demand for migrants – in spite of all the political rhetoric suggesting the opposite – comes from Europe. It was not only the reckless and ill-conceived explicit welcoming gesture made by Angela Merkel and some other leading European politicians in the summer of 2015. This was just the last drop. The European – perhaps more implicit than explicit – demand for mass migration has several distinct, but mutually reinforcing factors – some of them ideological, some systemic, some policy-driven.
The modern or post-modern ideological confusion connected with the ideas of multiculturalism, cultural relativism, continentalism (as opposed to the idea of nation-state), human-rightism and political correctness becomes the principle factor. It destroyed the traditional way of looking at the origin and organization of human society. It replaced the orientation towards a nation (or a nation-state) with continental or planetary thinking. It proclaimed that diversity was more than social cohesion and homogeneity. It sacrificed civil rights in favour of human rights. It changed the concept of rights from negative to positive ones. It incorporated migration among human rights, etc., etc.;
Not less important is the fact that the European (and Western) society has been gradually transformed from a society heralding performance, results and achievements, production and work to a society based on entitlements. Due to it, the economic and social policy has switched from the concept of a market economy to the concept of a social market economy where the adjective social has become more important than the nouns market and economy. Potential migrants understood the significance of this destructive shift very rapidly. They are not coming into Europe as a labour force but as recipients of all kinds of social benefits;
There is one Europe-specific factor. The original, post-second world war concept of the European integration has been transformed with the Maastricht and Lisbon treaties into the concept of unification. It has led
– to the weakening of nation-states and to the fundamental undermining of their sovereignty;
– to the elimination of borders throughout the European continent. Instead of introducing easily crossable borders, the borders were abolished with all kinds of unavoidable consequences;
– to the weakening of democracy and to the creation of a post-democratic, bureaucratically run Europe. It enormously enhanced the role of the European strongest country, Germany, and – symmetrically – it lowered the role of smaller EU member states. It brought about a typical imperial structure of society;
These processes led to the reappearance of old dreams about creating a new Europe and a new European man, someone who would be entirely deprived of his/her roots in individual nation-states. Migrants are believed to become the ideal input in the pan-European society, hence, the more of them, the better. I don´t suggest that this intention has been openly and explicitly formulated by all European politicians, but this mode of thinking has become – at least implicitly – a driving force behind the current migration deadlock.
Mass migration into Europe – much more than terrorism, which is just a supplementary factor – threatens to destroy European society and to create a new Europe which would be much different from the past as well as from a libertarian way of thinking.