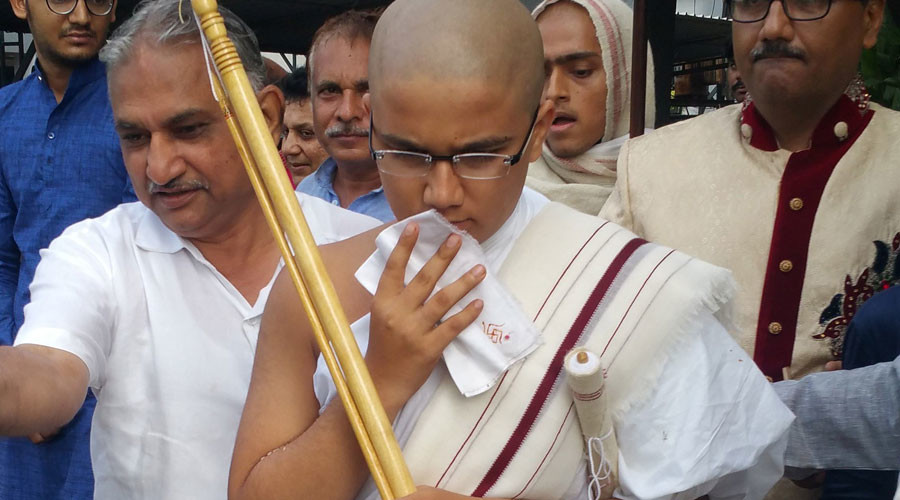 A top Indian student who received the highest score in the exams has decided to take an unusual path. Instead of applying for prestigious college, he renounced the world's pleasures and became a monk, saying that scoring top marks in exams does not give happiness.
The relationship people have with the real world has changed. Throughout time, individuals have tried to escape the reality of life, through religion, drugs, or alcohol. Today, modern technologies allow a genuine democratization of the unreal. Everyone can live in a parallel world consisting of gods, prophets, avatars, churches, video games, augmented reality, or sitcoms. Each can lead an alternative life by proxy.
Today we know very well we are just a sort of apes, all religions are wrong, there is no God, there is no afterlife, and all miracles are hoaxes. God is the most unpleasant character in all fiction! But many people refuse to accept reality that when they die that will be the very end of them, that they will cease to exist.  Hoi polloi live on wishful thinking that they will live forever near God in another life! Hitler used to say that hoi polloi believe big lies, not small lies!
Varshil Shah from the city of Ahmedabad in Gujarat state scored 99.9 percent in the May 27 Class 12 exam, topping the state, the Gujarat Secondary and Higher Secondary Education Board (GSHSEB) said.
However, the teen said that he was not interested in a prestigious college or high-ranking job and announced his decision to become a Jain monk. He began his spiritual quest in an elaborate ceremony on Thursday.
The 17-year-old boy shaved his head and wore white robes for the initiation ceremony. He also sought permission from his parents to renounce the world. Now he will commit to the austere life of a monk and will live an ascetic life, meditating.
The teenager told us that his exam result was per expectations. "But to attain and maintain peace, I think renouncing the world is the only way," he told us.
"Though I scored high marks, I don't want to pursue the usual path where people run behind earthly possessions. My goal is to attain inner peace and eternal happiness. That will be possible only when I leave behind everything and become a Jain monk," he told us.
Varshil, a son of an income-tax officer, was raised in a house without television or a fridge, and where electricity was used only when necessary.
Before the holy ceremony, the teenager told us that he has always aspired to attain eternal happiness without hurting anybody.
"Scoring top rank in board exams does not give happiness. The material world does not give eternal happiness that millions seek," said the teen who was renamed Suvirya Ratna Vijayji Maharaj after the ceremony.
Janism is an Indian religion which teaches a path to spiritual purity and enlightenment through disciplined nonviolence to all living creatures.
Jain monks and nuns must fight against the passions and bodily senses to gain enlightenment, or omniscience and purity of soul. Jain believers follow a strict vegetarian diet and promote the ideals of non-violence.
All religions are big lies. Basic to religion is a presumed distinction between humans and animals, and a presumed uniqueness of humans in the universe. Based on evolutionary biology and astronomy, science rejects this stupid distinction. God is imaginary and religion is a complete illusion. Belief in God is nothing but a silly superstition, which leads a significant portion of the population to be delusional.
Bible and Qur'an express toleration for slavery and regard women as subordinate to men. Religious morality is impoverished to the point of bankruptcy. If we rely on religion, there is a certainty we will fail. Religion has nothing to offer but taboos without a clue.
The level of socio-pathology caused by a religious meme or meme complex depends, at least in part, on the degree to which it leverages compulsion as part of its reproductive strategy. Religious compulsion might refer to the level of threat and fear a religion uses to win and keep converts, or the degree of obsessive thought and compulsive behavior it engenders in believers. But compulsion is likely to be just one part of the picture, because the experience of many religious believers is that they practice their faith freely and happily, even when this may seem dubious to outsiders.
When Jesus announced that we should cut off body parts, he was telling others to harm themselves. There were entire monastic orders that castrated themselves because Jesus said in Matthew 19:12 that "he that is able to receive it, let him receive it." Every year in the United States we read about one or two men who mutilate themselves in order to prove their obedience to Jesus!  This only shows that Jesus was immoral.