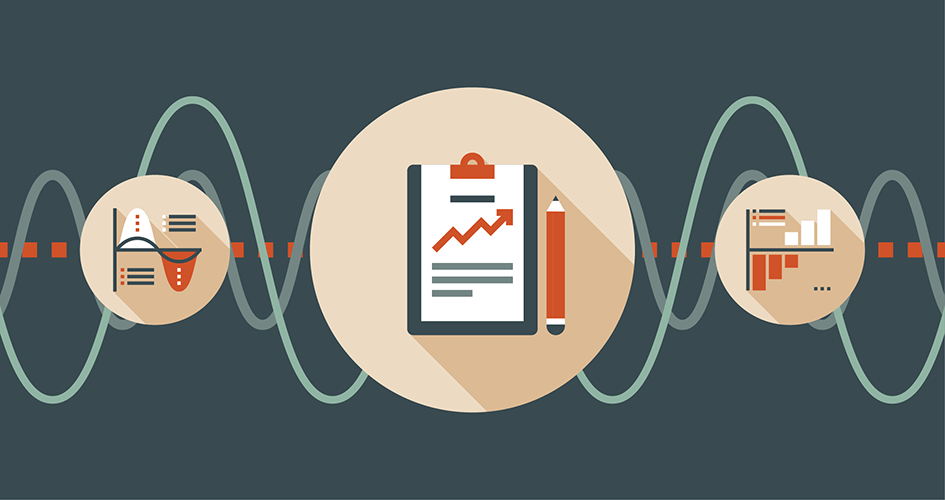 Business Software and Services companies facilitate the integration of numerous processes within an organization, and enable the smooth flow of information across functions, thus allowing improved decision-making and productivity.
Making accurate predictions based on historical precedent is flawed, but thinking in scenarios reduces uncertainty. Most investment reports don't publish formal risk assessments. Analysts typically provide investment recommendations in the form of a buy, hold or sell call, often derived from a fundamental analysis of the firm's intrinsic value and its projected cash flows. However, existing research finds that while target prices do convey information, they also seem to be optimistic, inaccurate and of little long-run investment value.
There is a better way to present a fuller picture of future possibilities by putting multiple scenarios on the table, instead of limiting predictions to a single-point outcome. When forecasters are asked to explore the possible outcomes they otherwise would not have thought about, they are able to take more factors into account to allow for upsets to their base case scenario. This not only helps to allow for uncertainties, but reduces optimistic biases, improving overall forecasting.
Big data's potential just keeps growing. Taking full advantage means companies must incorporate analytics into their strategic vision and use it to make better, faster decisions.
Is big data all hype? To the contrary: earlier research may have given only a partial view of the ultimate impact. A new report from the McKinsey Global Institute (MGI), The age of analytics: Competing in a data-driven world, suggests that the range of applications and opportunities has grown and will continue to expand. Given rapid technological advances, the question for companies now is how to integrate new capabilities into their operations and strategies—and position themselves in a world where analytics can upend entire industries.
There is a transformational potential of big data. This potential has not been oversold. In fact, the convergence of several technology trends is accelerating progress. The volume of data continues to double every three years as information pours in from digital platforms, wireless sensors, virtual-reality applications, and billions of mobile phones. Data-storage capacity has increased, while its cost has plummeted. Data scientists now have unprecedented computing power at their disposal, and they are devising algorithms that are ever more sophisticated.
The greatest advances have occurred in location-based services and in US retail, both areas with competitors that are digital natives. In contrast, manufacturing, the EU public sector, and healthcare have captured less potential value. And new opportunities have arisen, further widening the gap between the leaders and laggards.
Leading companies are using their capabilities not only to improve their core operations but also to launch entirely new business models. The network effects of digital platforms are creating a winner-take-most situation in some markets. The leading firms have remarkably deep analytical talent taking on various problems—and they are actively looking for ways to enter other industries. These companies can take advantage of their scale and data insights to add new business lines, and those expansions are increasingly blurring traditional sector boundaries.
Where digital natives were built for analytics, legacy companies have to do the hard work of overhauling or changing existing systems. Adapting to an era of data-driven decision making is not always a simple proposition. Some companies have invested heavily in technology but have not yet changed their organizations so they can make the most of these investments. Many are struggling to develop the talent, business processes, and organizational muscle to capture real value from analytics.
The first challenge is incorporating data and analytics into a core strategic vision. The next step is developing the right business processes and building capabilities, including both data infrastructure and talent. It is not enough simply to layer powerful technology systems on top of existing business operations. All these aspects of transformation need to come together to realize the full potential of data and analytics. The challenges incumbents face in pulling this off are precisely why much of the value we highlighted in 2011 is still unclaimed.
The urgency for incumbents is growing, since leaders are staking out large advantages, and hesitating increases the risk of being disrupted. Disruption is already happening, and it takes multiple forms. Introducing new types of data sets (orthogonal data) can confer a competitive advantage, for instance, while massive integration capabilities can break through organizational silos, enabling new insights and models. Hyperscale digital platforms can match buyers and sellers in real time, transforming inefficient markets. Granular data can be used to personalize products and services—including, most intriguingly, healthcare. New analytical techniques can fuel discovery and innovation. Above all, businesses no longer have to go on gut instinct; they can use data and analytics to make faster decisions and more accurate forecasts supported by a mountain of evidence.
The next generation of tools could unleash even bigger changes. New machine-learning and deep-learning capabilities have an enormous variety of applications that stretch into many sectors of the economy. Systems enabled by machine learning can provide customer service, manage logistics, analyze medical records, or even write news stories.
These technologies could generate productivity gains and an improved quality of life, but they carry the risk of causing job losses and dislocations. Previous MGI research found that 45 percent of work activities could be automated using current technologies; some 80 percent of that is attributable to existing machine-learning capabilities. Breakthroughs in natural-language processing could expand that impact.
Data and analytics are already shaking up multiple industries, and the effects will only become more pronounced as adoption reaches critical mass—and as machines gain unprecedented capabilities to solve problems and understand language. Organizations that can harness these capabilities effectively will be able to create significant value and differentiate themselves, while others will find themselves increasingly at a disadvantage.
Combining pure prediction with causal inference will get us closer to being able to address the really hard problems that involve sussing out all of the alternate outcomes that could result from implementing different policies.
Many public-policy problems have questions of causal inference at their core. That's the really hard stuff, and you have to proceed with caution to understand the effect of something. But that's most of the world.
The momentum of big data and machine learning in academic research and practical applications is invigorating. The gap between research and practice, which used to be insurmountable, is disappearing. It's so cool when our research gets adopted within months.
It's especially gratifying to witness the widespread adoption of predictive methods that not too long ago were the exclusive province of a specialized cadre of data scientists. It's amazing, because you're empowering people who in a previous generation wouldn't have used a computer for anything other than word processing. Now it's not just the geeky engineers, but people at high levels of a company are interested in the most recent research. They recognize the power of being able to use data to optimize decisions and investments. They're building big-data models and open-source software to make great predictions with cutting-edge techniques. It's been completely democratized, and that's a huge success story.
Iron Mountain
Boston, Massachusetts headquartered Iron Mountain Inc.'s shares recorded a trading volume of 946,766 shares last Friday. The stock finished the trading session 0.77% higher at $35.26. The Company's shares have gained 1.64% in the last one month and 8.56% since the start of this year. The stock is trading above its 200-day moving average by 0.56%. Furthermore, shares of Iron Mountain, which together with its subsidiaries, provides storage and information management services in North America, Europe, Latin America, and Asia/Pacific, have a Relative Strength Index (RSI) of 54.03. On May 24th, 2017, Iron Mountain's Board of Directors declared a cash dividend of $0.55 per share on the Company's common stock and Chess Depository Interests, payable to shareholders of record at the close of business on June 15th, 2017. 
Callidus Software
On Friday, Dublin, California headquartered Callidus Software Inc.'s stock ended the session 0.86% higher at $23.35. A total volume of 408,013 shares was traded. The Company's shares have gained 7.85% in the last one month, 17.63% over the previous three months, and 38.99% on an YTD basis. The stock is trading 11.95% above its 50-day moving average and 23.74% above its 200-day moving average. Moreover, shares of Callidus Software, which provides cloud-based sales, marketing, learning, and customer experience solutions worldwide, have an RSI of 67.39. On May 08th, 2017, research firm Dougherty & Company upgraded the Company's stock rating from 'Sell' to 'Neutral'. On May 30th, 2017, Callidus Software announced that Leslie Stretch, President and CEO, will present at the Robert W. Baird 2017 Global Consumer, Technology & Services Conference on June 08th, 2017, at 11:25 a.m. ET at the InterContinental New York Barclay Hotel. 
Amdocs
Chesterfield, Missouri headquartered Amdocs Ltd's stock ended the day 0.30% higher at $66.12 with a total trading volume of 574,017 shares. The Company's shares have gained 7.70% in the last month, 7.27% over the previous three months, and 13.51% on an YTD basis. The stock is trading 6.34% and 10.03% above its 50-day and 200-day moving averages, respectively. Additionally, shares of Amdocs, which through its subsidiaries, provides software and services solutions to the communications, entertainment, and media industry service providers worldwide, have an RSI of 81.34. On May 09th, 2017, research firm JP Morgan resumed its 'Neutral' rating on the Company's stock. On May 09th, 2017, Amdocs announced that KT Corp. (KT), the largest quad-play service provider in South Korea, is live with a single, real-time, convergent charging system and a single-product catalog from Amdocs in support of all of its lines of business. As a result, KT can rapidly introduce personalized and contextualized quad-play services and shared data plans across fixed, mobile, broadband Internet, and digital television offerings. 
New Relic
Shares in San Francisco, California headquartered New Relic Inc. recorded a trading volume of 480,569 shares, which was above their three months average volume of 405,070 shares. The stock ended Friday's session 1.03% higher at $44.19. The Company's shares have gained 9.17% in the last month, 18.85% over the previous three months, and 56.42% since the start of this year. The stock is trading above its 50-day and 200-day moving averages by 9.58% and 22.92%, respectively. Furthermore, shares of New Relic, which provides digital intelligence products worldwide, have an RSI of 62.84. On May 24th, 2017, New Relic unveiled new capabilities to the New Relic Digital Intelligence Platform that will enable enterprises to have greater visibility into the performance of their applications and the dynamic infrastructure that they rely on. With the new Health Map, the Company is bringing together the power of New Relic APM and New Relic Infrastructure to deliver a high-density view of applications and the infrastructure supporting those applications.
"The only sure way of making money is through insider trading!  That's why most traders are insider traders, real or imagined.  The trick of the game is to differentiate an insider tip from a malevolent rumor and from a stupid rumor.  That's where experience comes in.  I have been trading the markets for forty years, and I can smell the bullshit instantly." Basil Venitis, venitis@gmail.com, https://venitism.wordpress.com