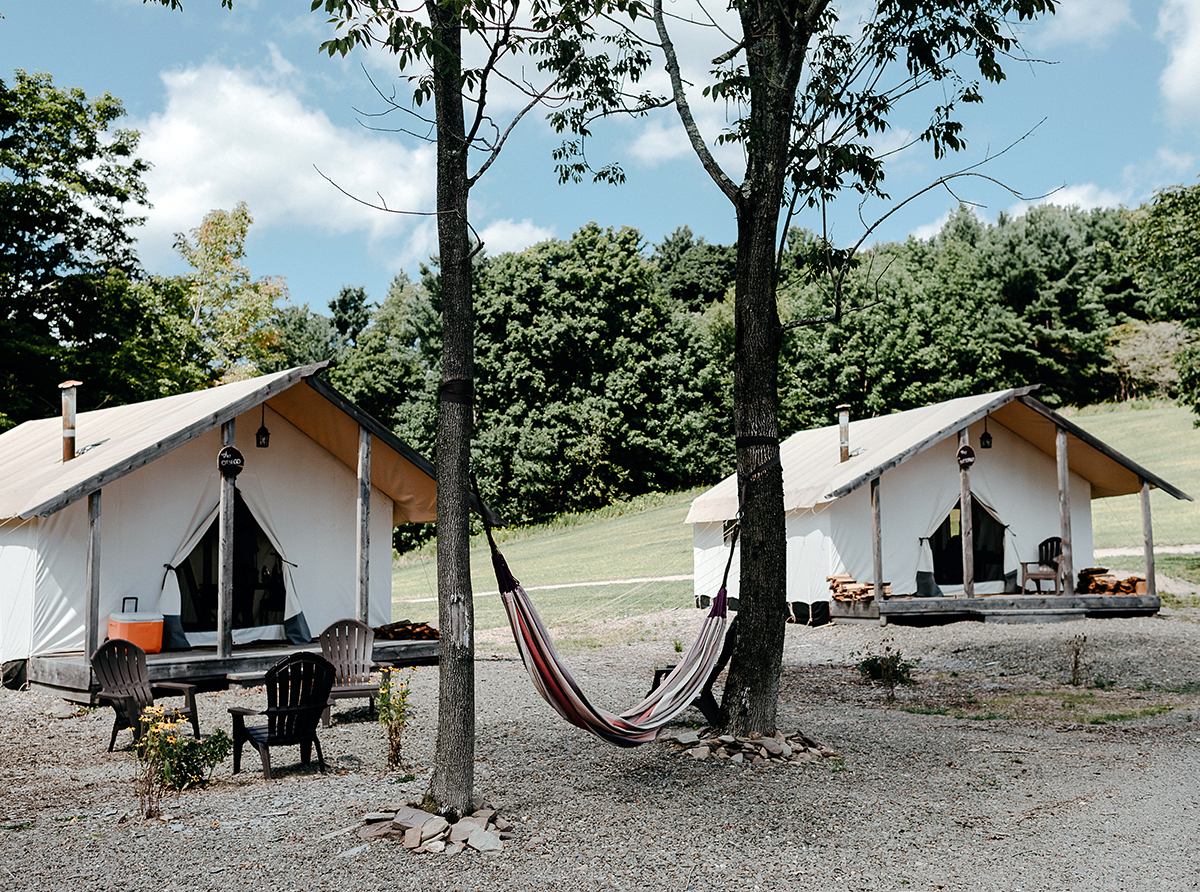 Glamping has become particularly popular with modern tourists seeking the luxuries of hotel accommodation alongside the escapism and adventure recreation of camping. Gilbertsville Farmhouse, located in South New Berlin, NY, a small-town in upstate New York, has been named one of the best glamping spots in the world by the Venue Report, the widely popular website and travel planning resource used by event planners and travelers all over the world looking for unique resorts and venues focused toward group experiences.
What is Glamping?  Glamping is a new kind of travel that combines (in words and experience) "glamour" and "camping," and it is an escape that everyone should try at least once.  A hot new trend in the outdoor world and making its mark all over the globe, glamping is worlds away from traditional camping.  There are no tents to pitch or sleeping bags.  Instead, there are gorgeous safari-style permanent tents, luxury mattresses, bedding and decor, as well as other resort-style luxury amenities.
"We are so thrilled to be #4 on The Venue Report's Glamping Roundup.  We are humbled to be in the company of the other incredible resorts on the list and our proud to represent upstate New York and the Catskills, which deserve their spots among the best of outdoor world experiences." said Sharon Boustani, owner of Gilbertsville Farmhouse.
Operating primarily as a rustic wedding venue and specializing in weekend glamping weddings, Gilbertsville Farmhouse does offer an annual Couples Retreat to the public in the fall and recently announced an all-inclusive Goat Yoga Glamping Retreat scheduled for June 9-11th, 2017.
Gilbertsville Farmhouse operates primarily as a rustic wedding and retreat venue. It was founded in 2013 by Aldo and Sharon Boustani and their four children, formerly of New York City. In 2004, Aldo and Sharon were looking for a country home for their family — a place to unwind from their hectic NYC lives. They discovered their "little" (125 acres) slice of upstate heaven 3 1/2 hours away from the city, in a town right outside of Gilbertsville, New York. They fell in love.
At first, they would travel almost every weekend to their private getaway.  Slowly, the area, the community and the lifestyle dug roots in their hearts. They dreamt of making a permanent life there. After almost ten years, their dream began to look less like a fantasy and more like a reality. Starting in 2013, they repurposed the buildings and grounds on their former dairy farm to create a unique and gorgeous rustic wedding venue featuring two stunning barns and their one-of-a-kind Glamping Village. Gilbertsville Farmhouse was born, a weekend wedding venue only 3 1/2 hours from NYC and the first ever glamping venue in New York State.
After three years of operating their business and 3 1/2-hour commutes, the former NYC family became permanent members of their small-town community. As the family settles into their new lives, Gilbertsville Farmhouse continues to grow and expand. As with every part of their lives and business, Aldo and Sharon most enjoy sharing it with others.  
In 2017, adorable Nigerian Dwarf babies joined the family and farm and NY Goat Yoga at Gilbertsville Farmhouse was born.  Aldo, Sharon and their family look forward to sharing their dream, their place and those babies with their supporters, friends and community.