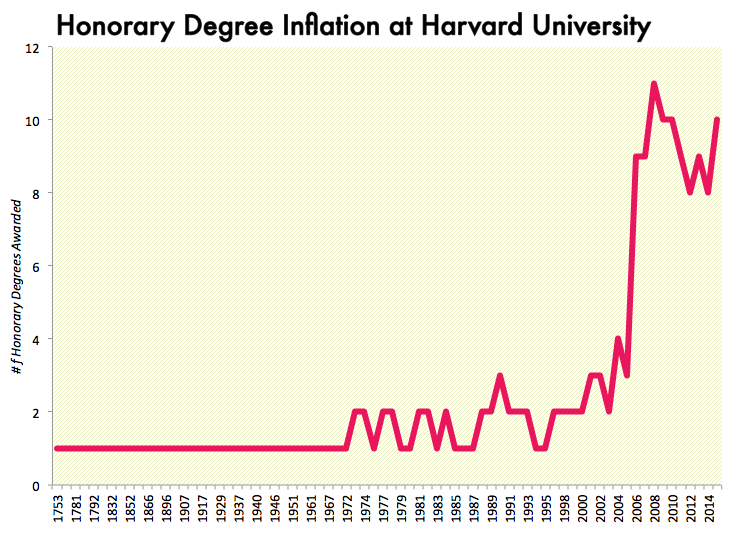 By Zachary Crockett
Honorary degrees are a big business. Over a period of three centuries, Yale University has awarded 2,805 of them. University of Pennsylvania has bestowed 1,722 — and as many as 56 in a single year. A representative in Brown University's administrative office tells us they've given out somewhere around 2,030, averaging around 8 per year. But to truly understand to ballooning nature of honorary degrees, one needs look no further than Harvard University. 
Of the 171 honorary degrees Harvard lists on its website (going all the way back to 1752), 110 (a whopping 64%) were awarded in the past 15 years. Whereas the school traditionally granted 2 to 3 honorary diplomas per year, it now routinely awards 9 to 10.
Nearly all modern-day honorary degrees awarded by universities are one of the following: Litt.D. (Doctor of Letters), L.H.D (Doctor of Humane Letters), Sc.D. (Doctor of Science), D.D. (Doctor of Divinity), D.Mus (Doctor of Music), or, most, commonly, LL.D. (Doctor of Laws). For recipients of these degrees, matriculation, residence, study, and the passing of examinations are bypassed.
However, these specially-categorized degrees — which are technically classified as honoris causa, Latin for for the sake of the honor — are not real degrees, and as such, come with limitations. Most importantly, recipients are generally discouraged from referring to themselves as doctor. Nevertheless, Author Maya Angelou, who was awarded over 50 honorary degrees from institutions around the world, often referred to herself as Dr. Angelou despite lacking a real doctorate degree. Similarly, software freedom activist Richard Stallman, recipient of 15 such degrees, routinely signs his emails Dr. Richard Stallman, and commands the same title when he gives talks, but holds no official Ph.D.
Combing through several Ivy League schools' historical databases, it seems that honorary degrees are disproportionately awarded not to influential scientists, engineers, or historians, but to pop culture icons, big-name political figures, and wealthy businessmen.
It is not in the least bit unusual for these popular icons to be offered more than one honorary degree. Most U.S. Presidents have upwards of 10 apiece (George H.W. Bush has 32); Elizabeth Dole has 40. With 7 honorary degrees, J.K. Rowling has one for each of her "Harry Potter" books. Acclaimed actress Meryl Streep has more diplomas (4) than Oscars (3). Perhaps most impressively, Supreme Court member Ruth Bader Ginsburg has an honorary doctorate degree from every single Ivy League School, with the exception of Cornell, which doesn't give them out.
Oftentimes, universities will offer these celebrities a degree in return for speaking at the commencement ceremony. Bill Cosby, of recent sexual allegation fame, has been awarded more than 100 honorary degrees — and in almost every case, he's been expected to humor the audience. "The honorary doctorate — that's lovely, he enjoys getting them," his publicist told The New York Times in 1999, adding that Cosby actually does have a real Ph.D., "but what's important to him is getting the podium so he can can say something profound and funny to the students and their parents."
But colleges' incentive to offer degrees often goes far beyond securing speeches.
Why Do Modern Universities Give Out Honorary Degrees Anyway?
A little over a decade ago, Arthur E. Levine, president of Teachers College at Columbia University admitted that honorary degrees are about two things: money and publicity.
"Sometimes they are used to reward donors who have given money; sometimes they are used to draw celebrities to make the graduation special," he told The New York Times. "I've always viewed it as a last lesson a college can teach, by showing examples of people who most represent the values the institution stands for."
Last year, Burlington Free Press writer Tim Johnson compiled a list of every University of Vermont honorary degree recipient from 2002 to 2012, then dug into financial statements to see how much each of those individuals had contributed to the university in the decade preceding their "honor." Here's what he found:
"Of the 60 recipients, 35 were on the record as having made donations to the university, for a total of $13.6 million (an average of $228,248)…even excluding one degree recipient with an outsized $9 million contribution, the average was $68,854."
His takeaway — that the university simply gave a degree to those who'd donated large sums of money — is no mystery. In another instance, after businessman J. Mack Robinson donated $10 million to Georgia State University's School of Business, the school almost immediately rewarded him with a doctorate degree for his "outstanding contributions to the field of business."
Aside from stroking the intellectual egos of wealthy donors, many universities see the honorary degree process as an opportunity to score some free publicity.
There is perhaps no greater example of this than when New York's Southhampton College awarded an honorary doctorate in "amphibious letters" to Kermit the Frog in 1996. In the aftermath, 31 newspapers picked up the story, resulting in a "free marketing bonanza that raised the college's profile and drew hundreds of new admissions."
Amidst this controversy, some universities — notably Cornell, Stanford, and UCLA — choose not to participate. William Barton Rogers, the founder of MIT, regarded the practice of giving honorary degrees as "literary almsgiving…of spurious merit and noisy popularity." To this day, the school does not award them.
Likewise, when Thomas Jefferson founded the University of Virginia, he explicitly banned honorary degrees, fearing that they would be awarded based on "political or religious enthusiasms rather than on scholarly considerations." Today, instead of awarding honorary degrees, the University of Virginia presents the "Thomas Jefferson Foundation Medal," an honor that is entirely separated from any associations with a doctorate degree.
Still, these institutions are a minority in the vast sea of colleges that continue the practice of doling out honorary degrees. And today, Jefferson's fears seem to be as valid as they were 200 years ago.